It happens to the best of us. About a month ago I had convinced myself that none of my works in progress were "right." This one was almost done, and that one needed careful tinking, and the one over there wasn't a flattering color after all.
On top of that, I had amassed a significant amount of sweater yarn. Try as I might, the stupid bags of yarn wouldn't transform themselves into completed sweaters without my intervention. They were occupying my limited space and mentally weighing me down. So, naturally, I cast on for a sweater. Alpaca Twill, to be exact.
My friends, it was a case of rash cast-on-itis. I wasn't thinking! Such different gauge, entirely different drape, so many numbers to work out! Let's not forget – the whole thing is basically 2 X 2 ribbing. The uber-swatch? Yeah, that thing. I'm glad I included it in my plans. It showed me that the fabric changed significantly in both texture and gauge after washing. All the calculations were made even more cumbersome. Despite the delectable color and amazing softness of Classic Elite Princess, this project was destined to be a dud.
The last straw came in a somewhat unexpected format – a new book filled with charming projects cover to cover, projects which spoke to me much louder than the lingering Alpaca Twill. How could I invest even one more minute into knitting something I didn't truly love? Only with a very guilty conscience, that's how.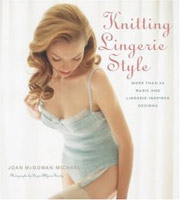 Knitting Lingerie Style
by Joan McGowan-Michael of the White Lies Designs fame has been flying under the radar, it seems. Really, there's no good reason for this :). It's a stunning book featuring the same publisher and photographer as Knitting Nature
. I bought my own copy after reading a review on Jody's blog, and have already bookmarked a handful of "must knit" patterns.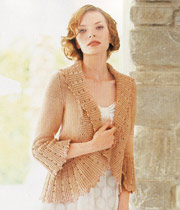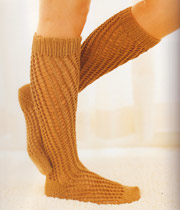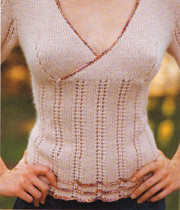 On the left: I agree with Betsy – the chosen color should reflect the vintage feel of the delicate Bed Jacket.
In the center: If you can believe it, I contacted 4 (!) yarn shops tonight in hopes of finding a third skein of Wick to match the two already in my stash, so I can make the Fishnet Knee-Highs (color #120 cream, lot #1029 – maybe one of you can help me out!).
On the right: A button-down blouse with a nice collar would look fabulous under the Waist-Cincher Top. I think the yarn I was (ahem) using for the Alpaca Twill sweater will work for this.
Just like that, the possibilities of new projects supplant what's already on the needles. And you know what, I don't feel bad about it. Not at all! In fact, I feel guilty about wasting my time, not about abandoning a WIP that's no longer working! How about you?
0
likes