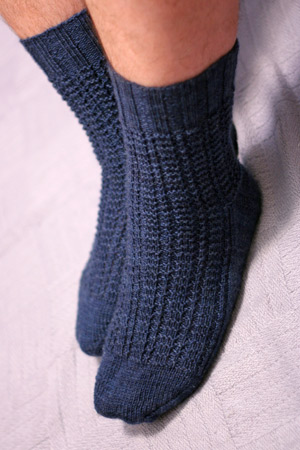 Having worked with almost every Lorna's Laces color under the rainbow, I could tell that something was different about the navy. For me, typically, the nylon fraction of a strand of Shepherd Sock does not embody a presence. It's there, but it blends into the superwash wool completely. Caught off guard I might even say LL Shepherd Sock is 100% wool!
The way the yarn took up the navy dye, in contrast, is new to me. The nylon glistened differently and appeared to be a slightly different shade than the surrounding wool. Now I watched the subtle variegations and what amounted to a subtle tweediness. Variegation + tweediness + attentive eyes = speedy knitting!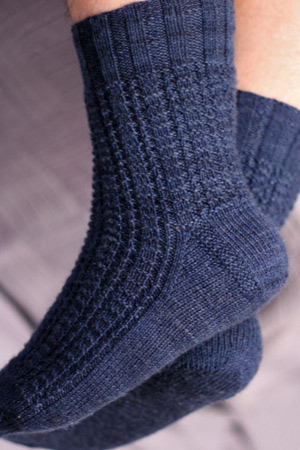 Pattern: Based on the Stansfield #10 motif from Charlene Schurch's Sensational Knitted Socks
(p.48).
Yarn: Lorna's Laces Shepherd Sock in navy, 2 skeins (from this store).
Needles: Susan Bates
US 0 dpns, set of 5.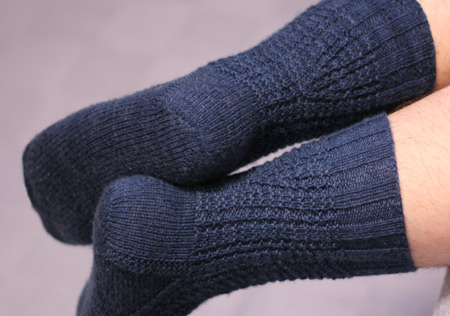 I swiped the overall dimensions and features of these socks from the Railway Stitch socks I knit earlier this year: stitch counts, calf shaping, height of heel flap, etc. As before, I worked the foot over more stitches and knit a more blunt toe. The only difference is the garter-edged heel flap, which fit effortlessly into the overall pattern flow.
0
likes