You know, the Moss Seasilk might have been a faulty skein after all! Remember how it didn't have any discernable scent?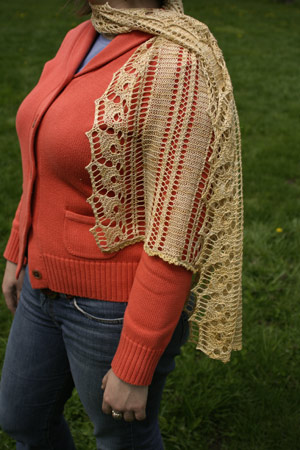 Well, in contrast, every time I handled the Straw skein, I got an unmistakable 'green tea ice cream' aroma, reminiscent of the Tilli Tomas Pure and Simple silk I've used in the past. Mmm, mmm, delicious!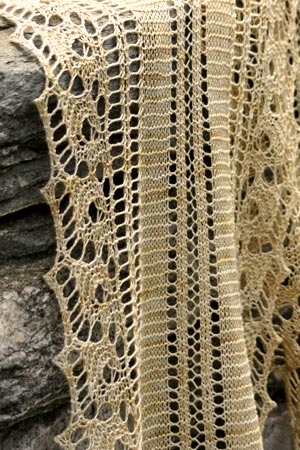 Pattern: Dolphin lace scarf from Victorian Lace Today
by Jane Sowerby (review/preview here).
Needles: Blunti Stumpos, US 4 (3.50 mm), F (3.75 mm) crochet hook.
Yarn: HandMaiden Sea Silk in Straw, 1 skein (438 yards), used up almost in its entirety.
Finished dimensions: approximately 13″ wide and 58″ long (28 repeats plus crocheted edging).
One skein of Seasilk does it again! A totally wearable scarf which doesn't offend the budget? Check!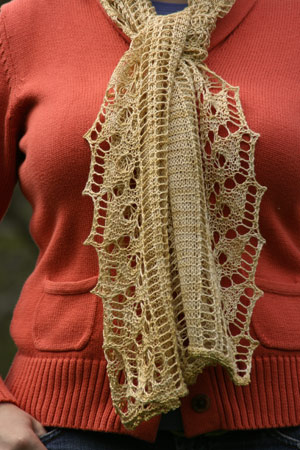 What I love most about this pattern is that it really allowed me to squeeze every last stitch out of a limited amount of yarn. The lace is quite open, and knitting the scarf in one piece left the algebra 'out of the equation' :). As a result, the Dolphin scarf is even bigger than the Melon scarf!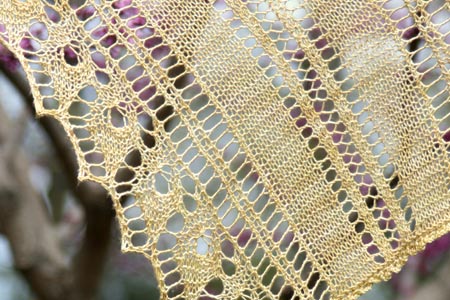 The pattern was easy enough to follow once the hiccups were chased away. And the splashing, dancing dolphins inspire even land bound animals to take flight.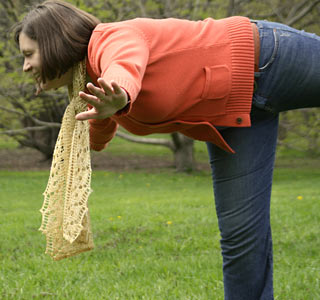 0
likes