ETA: In my calculations, I forgot to take into account the 8+ repeats I've already knit! Oops! The numbers below have been fixed.
Well, I'm up to my usual antics. First, I weighed the remainder of my Sea Silk skein using my little balance: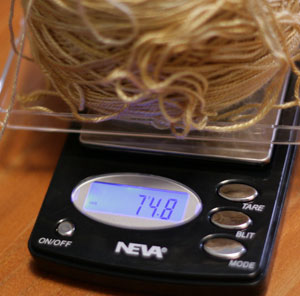 Next, I knit one repeat of the pattern, and weighed it again: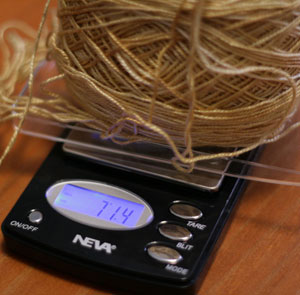 A little bit of algebra, remembering to take into account the few yards required for the decorative edging, and the verdict:
My Dolphin lace scarf will likely have a total of 28 pattern repeats: 8 completed so far, and 20 from the remainder of the skein.
Next, a little pinning and measuring: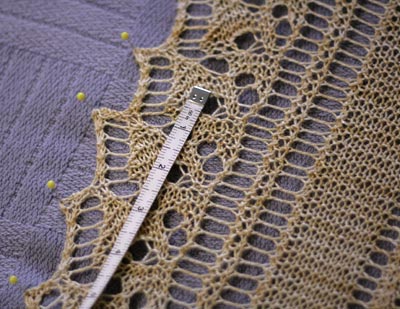 And a second verdict:
My Dolphin lace scarf will likely be 15″ wide and 49″ long, once blocked.
A petite scarf for sure. Remembering that the Melon Scarf came out to be 11″ wide and 56″ long, perhaps a more narrow version of the Dolphin Lace scarf would maximize the yardage.
I might stop by Windsor Button and see if (miraculously) they have another skein. But I'm not holding my breath considering the yarn was purchased in September.
If not, no big deal: first, I'll be extra diligent to maximize length when blocking. Second, all scarves are subject to gravity and get longer and more narrow with use. Third, knowing my fashion habits, I'm quite content having a smaller, more square scarf.
If I were a glutton for punishment, I would have also timed myself during this exercise, and then extrapolated how much more time this project would suck up. Let's not go there, since knitting this pattern is very enjoyable.
And thanks to everyone for pointing out the dolphins! Honestly, I didn't see them at all before reading your comments… and now, they're as clear as day :).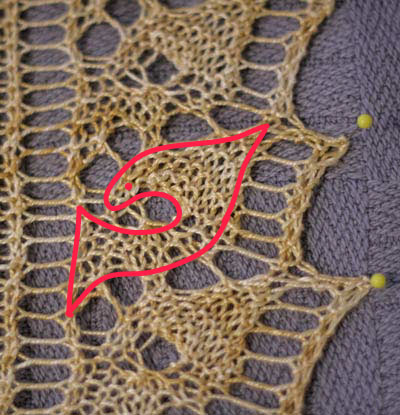 0
likes