Either we're all going blind, or the intricate web of knits, purls, and yarnovers doesn't create the shape of an actual dolphin.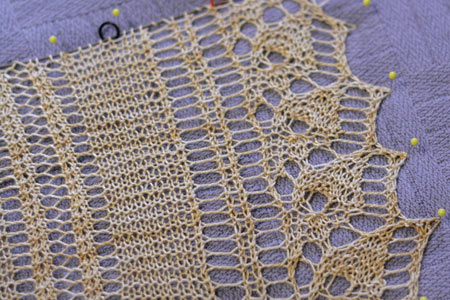 I'm guessing the stitch pattern is simply called "dolphin stitch" for whatever reason, or the whole thing must be very abstract. (Or not! See some fabulous ideas in the comments!)
To me the border looks like leaves emerging from a center panel, especially with those points created by binding off three stitches. The big hole in the center of each leaf is the dolphin stitch itself – passing a few stitches over each other, then casting-on a bunch more mid-row.
Yesterday's was a long and complicated post, and I don't want anyone to walk away with any misunderstandings. First and foremost, there is only one outright mistake: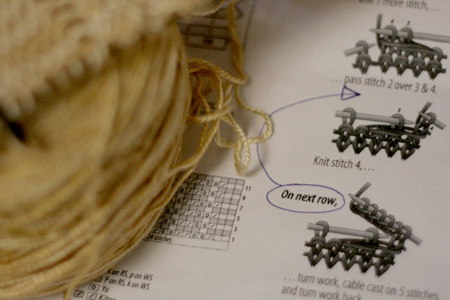 Mentally (and/or physically) move those three words, "On next row," one picture higher, and presto – all fixed!
Second, there are a few minor hiccups, not errors per se.
Hiccup #1: As written the pattern works out fine – the number of cast-on stitches matches the charts perfectly, the charts don't have mistakes, and so on. However, after knitting a few inches you might note that the scarf in the photograph containing three columns of lace in the center (possibly compensated by more narrow motifs elsewhere):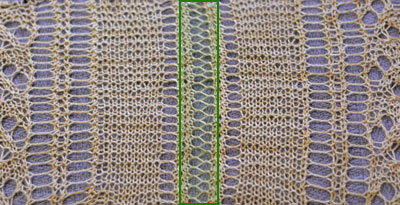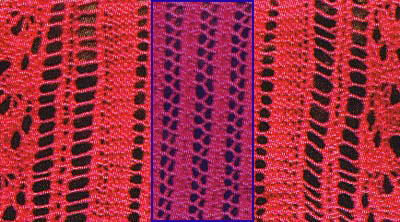 Hiccup #2: The author doesn't clearly differentiate the set-up row from the regular pattern in the 'row sequence chart'. This actually didn't stump me (the beast became all too familiar by the third cast-on) but Jennifer kindly directed me to the blog entry where she explains the hiccup.
Hiccup #3: The supplied Dolphin lace chart doesn't contain any mistakes, and it's totally possible to deduce both borders from just the one chart. However, it is tricky to do all those mental inversions in one's head, as everyone who's actually tried the pattern attested (thanks, guys!). Wouldn't it be more effective to get rid of all those inversion directions and 'pattern row sequence' diagram and just… include the second chart?!? Revolutionary, I know.
I don't want these clarifications to mislead you – I just wanted to set some things straight. Because, honestly, this is far from a disaster (cough, MMS, cough). It's not a complicated project once you take the time to think about the way the scarf is constructed, and there are no mistakes that will render it unworkable. Quite the opposite! It has two great things going for it – worked over 60 stitches, it's just the right width to utilize a small amount of yarn while making a respectable neck-covering. In addition, the whole thing is worked in one piece, allowing us to take advantage of every last yard of that glorious Sea Silk.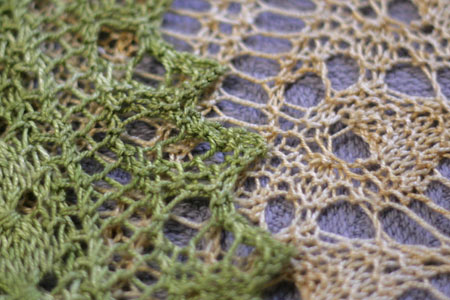 0
likes