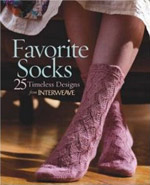 My original intention was to share a lovely picture of a Boston landmark with you today, part of Eye Candy Friday. I even uploaded the aforementioned picture to my server! But yesterday evening I received my copy of Favorite Socks
, 25 Timeless Designs from Interweave, and as an avid sock knitter, I have to share my excitement with you!
Before you ask, "Timeless designs from Interweave? Don't I already have all of these patterns?" allow me to answer – probably some, but definitely not all.
First, I counted six pairs which are brand spankin' new for this book! Second, several pairs are reprinted from late 90s and early 00s (he) when I, for one, was not a knitter. Third, sure, I have the patterns for the Retro Rib Socks, Padded Footlets, Cable Rib Socks, Go With the Flow Socks, and Waving Lace Socks (the ones on the cover) somewhere, but I need a personal assistant if I have any hope of collecting them all in one spot in less than 5 days.
On the technical front, the book contains Priscilla Gibson-Roberts' Dream Socks article, one of the best guides for knitting socks with short-row heels and toes. There's also a re-print of Wayne Pfeffer's Two-Yarn Resoleable Socks from the summer 2000 issue of Spin-Off, which interests me (and my grandmother, who refuses to throw away anything I've knit for her, no matter how many holes) greatly. There are several Nancy Bush patterns, three of which feature stranded colorwork as only Nancy does it :). Last, there's a cute pair of footlets with seamless intarsia in the round! Sign. me. up!
Here are some more socks which grabbed my attention (click on pictures for bigger):
A pair of socks in a merino/linen blend, and a pair in Cascade Fixation.
A gorgeous pair by Nancy Bush, using the eye of partridge heel just like my Happy Green socks, and a pair which is similar to the green socks themselves!

A shadow knitting pair! Oooo, boy! My foray into shadow knitting has been brief, but memorable. Just the other day I was eyeing my copy of Vivian Hoxbro's Shadow Knitting
longingly… I'm all over these!
These three pairs have my grandma's name written all over them, especially that green pair.
Some more interesting patterns, all new to me.
Bottom line, I haven't been this excited about a book since Victorian Lace Today!
0
likes