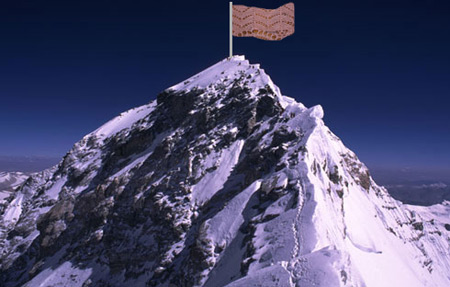 …and I did not perish!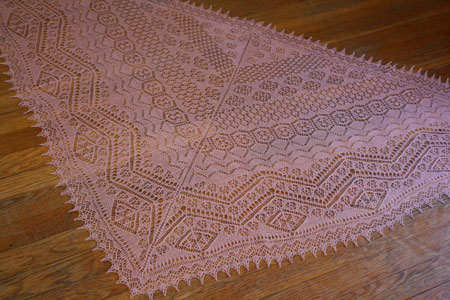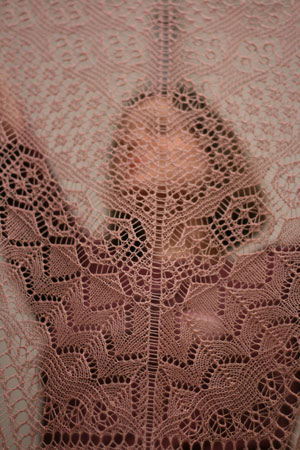 Mountainash: a project of desire, love, frustration, boredom, longing, and determination. In that order.
His first appearance nearly a year ago was met with much enthusiasm, both from me and my readers. I saw a challenge: a Shetland-style shawl, the pattern for which was written in a language completely foreign to me. You became spectators of a true knitting battle: Grumperina versus Mountainash, Determination versus Language Barrier, Persistence versus Boredom.
Many more posts followed, and some progress was made… and then summer came. Glorious, beautiful summer! How could I stay indoors and stare at charts when the heat and humidity were so gentle, the sun so radiant? Boredom put her foot down on July 25th.
Mountainash and all his paraphernalia went into hibernation for about four months. Once in a while I'd consider knitting a few rows, but the time wasn't right yet. In December I wrapped up a bunch of projects and had a few weeks of waiting while the yarn for my grandma's beret and the Komi hat arrived. I didn't want to start anything new in the meantime, and that's when I picked up Mountainash again.
I didn't blog about this clandestine spurt of productivity because, frankly, the bits that were left were rather boring. The stitches for the main part kept shrinking, and the border was a serious test of my persistence. Besides, I felt that saying "I'm working on Mountainash" out loud would be a hex and the whole thing would tumble into another four-month hibernation.
And now it is done, and you have come for some details.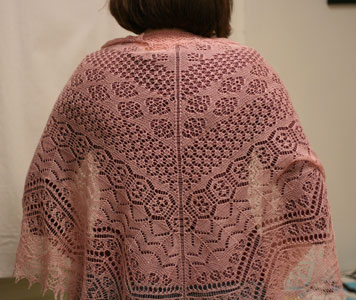 Pattern: Mountainash shawl, New Style of Heirloom Knitting. The book was a most generous gift from Siow Chin.
Yarn: Lacey Lamb in color 202. I used about a skein and a third, 80 grams, 1100 yards. At one point this yarn was distributed by Jade Sapphire, but I don't think they're carrying it anymore. You can still get it at many shops.
Needles: Most of the shawl was knit using 2.75 mm (US 2) Inox Express circs, and most of the border, 2.75 mm dpns
. Smaller needles were specified for the center top of the shawl, so I used a 2.50 mm KnitPicks circ and 2.50 mm Inox aluminum dpns.
Finished dimensions: This one came out a monster: 74″ across the top, 35″ from top edge to point.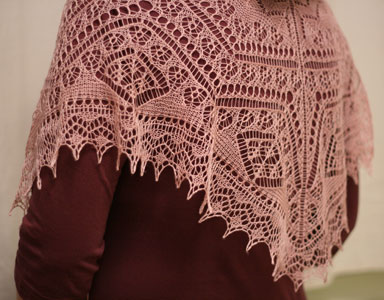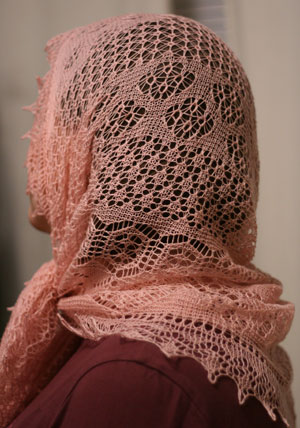 This is where I would typically list my modifications. I'm sure the difficulty of this task doesn't escape you, considering I only have hints and guesses about the actual instructions. I know for sure that I assembled Mountainash in a completely different order than the pattern specifies. And that's about all I know.
This inadvertent change had me most worried about attaching the border. Fortunately, I had completed my Melon Shawl prior to tackling the border of Mountainash, and had no hesitations about "afterthought border attachment" when the time came.
One of the most special things about this project was the yarn I used, Lacey Lamb. This 3-ply cobweb weight 100% lambswool is the definition of sproingy. The knit fabric felt like a very fine sponge, trapping lots of air between all those plies and strands. The shawl was minuscule before blocking: 47″ across the top, 22″ to the point. Enough stretch was stored in the fiber to nearly double it in size during blocking! The only downside I noted while working with this yarn is that it split somewhat easily – nothing a good pair of knitting needles can't circumvent.
Click for bigger
As for my thoughts about using a pattern written in Japanese… let me put it to you this way: knitting Misty Morning was ten times more complicated, and that one is in English! I made sense of some of the instructions using this chart, deciphering the characters for 'stitch' and 'row' and 'needle', and for the stitch symbols I used this chart. Most importantly, as Cara recently mentioned, "the charts aren't in Japanese, they're in KNIT."
It doesn't hurt that the charts were virtually error-free. There was the one mistake in the beginning, and I found another simple one in row 237 of the main triangle: that k3tog should be a k4tog. But considering there's a total of 249 rows in that main part, by the time you get to #237, I think you'd be able to figure it out on your own :).
1
like