Pattern: Canal du Midi from Nancy Bush's Knitting on the Road
.
Yarn: Lorna's Laces Shepherd Sock, denim (14ns), 2 skeins, purchased from my favorite LL supplier.
Needles: set of five US 0 dpns (these ones
).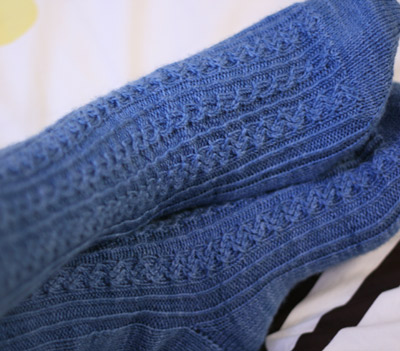 Is it just me, or does everything Nancy Bush touch turn to gold?!? These Canal du Midi socks didn't look particularly noteworthy in the book
, but look at how nicely they knit up!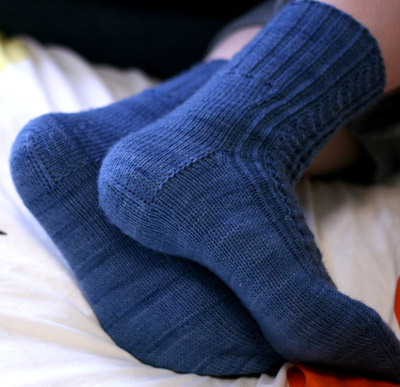 The subtle variegations of Lorna's Laces "solid" colorways keep me coming back time after time. Even though skeins from the same dye lot were used to knit each sock, see how the lower one is striping ever so slightly? Just like the Gentleman's Fancy Socks I knit a while back.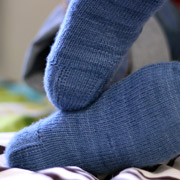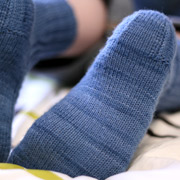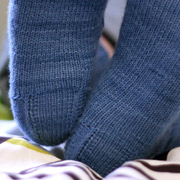 Photographing your own heels is an exercise in patience.
So. The Square Heel. I don't think it's for me. At first I couldn't figure out exactly where it should sit on my foot. Note to self: if you find yourself tugging the heel of a sock backward and forward for half an hour, in an attempt to determine which position is "more comfortable," the heel style in question isn't for you.
All the tugging and pushing and squirming and questioning led me to the conclusion that the heel should be "all the way back." After I finished the socks, something still wasn't quite right… the fit was off, everything was too loose. Finally, I came to my senses, nudged the heel forward a bit, and decided it looked much better. "Nudging the heel forward a bit" resulted in socks fit for a giant, but that's a small point that's already been corrected (with a bit of cursing, of course).
Even though the fit has been corrected, I'm deeply concerned that the two columns of decrease stitches are structurally very weak, and have the misfortune of residing in the most stressed area! Once they go, the entire heel will follow – the gussets wrap around to the bottom of the foot! I briefly contemplated weaving in some reinforcement thread (like here), but decided against it – if it so happens that this square heel fits my grandma's feet perfectly, I'll reinforce every single one from now on. But until I know that's the case, I'll save my time and energy for other projects :).
0
likes