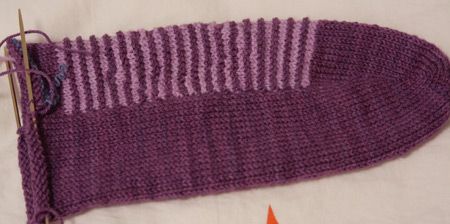 That's more like it!
Wheew! As I calculated, I got a nice flat fabric when I joined 2 rows of sole for every 3 rows of instep!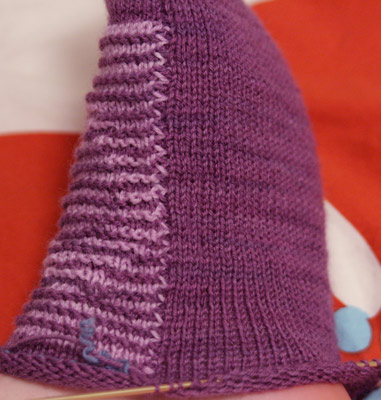 I didn't get any holes or gaps along the side because I picked up every selvedge chain stitch. It's just that one-third of the picked up stitches were never developed into rows, and simply got decreased away with the next picked up stitch.
I considered using different needles… Potentially I could have gotten a very satisfactory result by knitting the top and bottom of the sock using two different needle sizes.
However, changing needles is a guessing game. Gauge, on the other hand, is math.
Do I know for sure that going down a needle size would sufficiently reduce the puckering? Maybe the answer is to go down two needle sizes? But what if the resulting fabric is too dense? What if I should knit the top using bigger needles instead?
And so on, and so on, and so on.
In contrast, I measured the gauge in shadow knitting, the gauge in stockinette, punched some numbers into the calculator, and knew, knew for sure that I would get a flat fabric if I joined them 3:2.
I know it may have seemed like I was over complicating matters, but in reality, I absolutely took the easy way out: math trumps guessing once again :).
On the plus side, having knit the foot of this sock three full times by now, I think I finally got the sizing down. On to the heel! But not before I sneak in a few rounds on the divine Uptown Boot socks – my reward for getting this right, finally :).
0
likes