I have such Eye Candy Friday for you – it's beautiful, and it's indirectly related to knitting… but it will have to wait. I have more important things to talk about! Maybe I'll post a special Eye Candy Saturday (though for the sake of avoiding asphyxiation, let us not hold our breaths).
Instead, look at this gorgeous construction!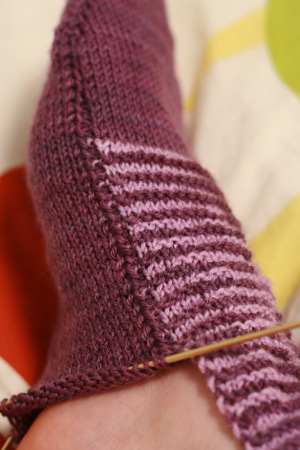 I'm rather methodical when it comes to complicated maneuvers like knitting the sole of a sock and attaching it to the instep as you go. What I'm loving about the Hidden Passion sock pattern is that the designer tells you exactly how to do it. Exactly. how. to. do. it. What to slip, what to knit together, where the yarn goes. No guessing allowed. Love it!
What I'm not loving is how big these are coming out.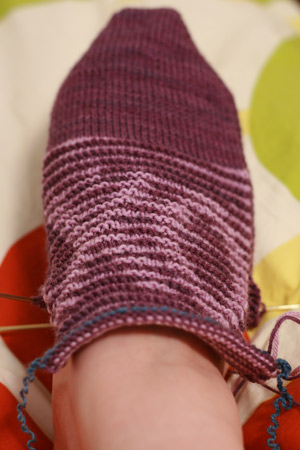 It may be hard to tell from the photo, but these are a bit too wide, and a whole lot too long. It's kind of tricky to estimate when to start the toe having the instep as the only guide. It's twice as tricky if you're knitting for someone whose shoe size is drastically different than yours. Me: US 7. Grandma: US 10.5; little lady, big feets (if you've asked to see pictures of the fam in knitted gear, do click on that link).
But here's something that I think is more obvious: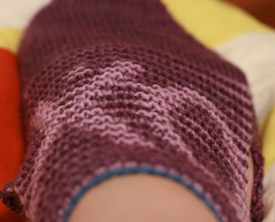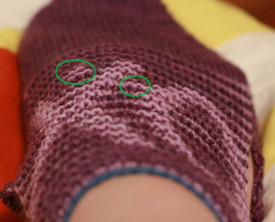 Hello! Who are you? Please go away.
I'm not experienced in reading shadow knitting charts, so I've been following along blindly and not questioning the stitches too much. Lo and behold, something didn't look quite right, and when I took the time to investigate the chart, I think I've found some mistakes.
I e-mailed Jaya, the designer, and she assured me that the charts were fine in her original submission (I didn't doubt that). I scanned the one in the book and e-mailed it to her for comparison – we'll see what she thinks.
The good news is that I was going to start over anyway because of the sizing. These potential mistakes make it that much easier to rip, rip, rip!
0
likes