Most often my catalyst is a pattern – "look at that! I want to make that!" – followed by an expedition through the stash, a trip to the yarn store, and a Google search to rival all Google searches.
But sometimes the yarn provides the necessary spark to get things going. Though my personal stash isn't large, I am in no way, shape, or form against stashing – if the yarn speaks to me, it comes home with me! And then the yarn may linger for months, years, but if the admiration hasn't faded, the right project will make itself known.
(and if it has faded, there's always DeStash)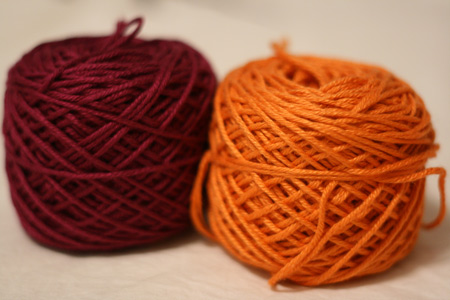 Such was the case with Berroco Touché: I noted this yarn the very first time I touched it. And I kept noting it every time I'd see it again. And when elann had it on sale not too long ago, I held out like a trooper, fighting temptation for days, reasoning I had no pattern in mind…
And then I came to my senses.
And got 24 skeins.
And I felt no guilt about it then, nor do I feel any guilt about it now. For those of you familiar with KnitPicks Shine, Touché has a very similar composition, but I like it better (maybe because it seems spun more tightly).
Although I got enough to make one adult sweater out of each color, I knew I wanted the two side-by-side as soon as my yarn arrived. It was just a matter of waiting until the right project made itself known.
Now, of course, you understand exactly why Shadow Knitting
spoke to me when it did – by its very nature the technique combines light and dark yarns, placing them side by side!
So, how about it? A little throw or blanket, combining the orange and the fuchsia, placing them side by side? It so happens that shadow knitting is not much different from garter stitch – the fabric doesn't curl – and so the technique produces a functional flat fabric.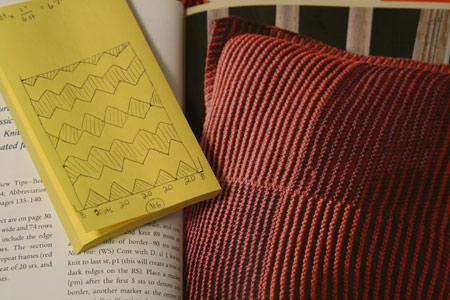 I'm starting with a simple border, as outlined in the Classic Cross Pillow pattern (same book
, p. 28). Once I pick up stitches for the main part of the blanket, I plan to roughly follow the design of the Collared Jacket, doodled up (very poorly) on that yellow post-it (or see my previous entry, p. 110 of the book).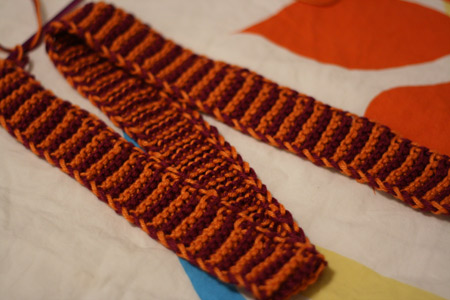 The border grows, slowly but unobtrusively – great for watching TV or chatting on the phone. In the meantime, I cannot help but admire the seriously tidy edges: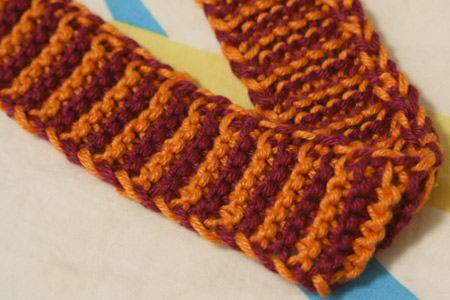 When a designer has taken the time to work out exactly how yarns should be twisted and stitches should be slipped, it shows. Love it!
0
likes