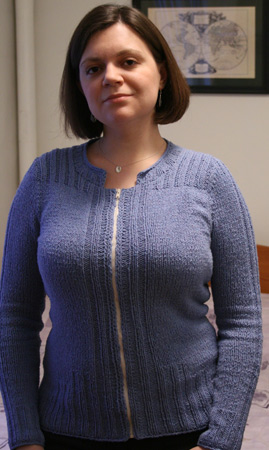 Pattern: based on Brilliant Retro by Teva Durham, Interweave Knits Winter 2005.
Yarn: Classic Silk by Classic Elite, 50% cotton, 30% silk, 20% nylon, in #6947/cobalt. I used only 7 skeins! The yardage of this stuff is incredible!
Extras: some Lorna's Laces Shepherd Sock for seaming, 20″ zipper, grosgrain ribbon for zipper backing.
Needles: Addi Turbo circs, US 6.
Finished dimensions: bust 38″, waist 34″, hip 38″, length to armhole 16″, depth of armhole 7.5″, sleeve length 19″.
Gauge: about 4.5 stitches and 7 rows per inch.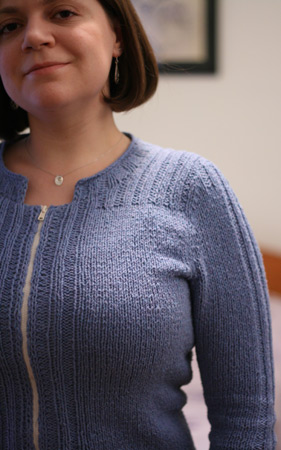 I'm very pleased with the way this sweater turned out – it's nice and fitted, but long enough to cover my belly. As always, I paid extra attention to the armholes and sleeve caps – bat wings, or lack thereof, are my personal pet peeve.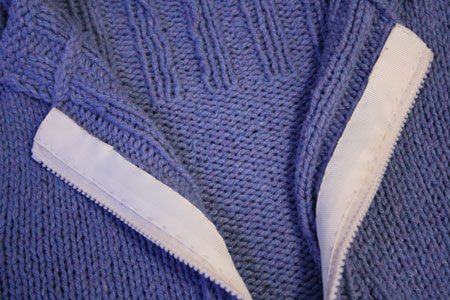 Putting in a zipper took a bit more effort than buttons, but it's so nice to not have a gaping button band. SO nice. I think the zipper went in relatively smoothly, without obvious bulges.
(click for bigger)
What more can I tell you about this sweater? I feel like I've already written a tome!
Oh, right, right… there is this one itty bitty last detail I have to share. Eeeetey beeeetey….
But first you have to promise me two things: (1) that you are sitting down as you read this, and (2) that you have your sedative of choice nearby (wine, benzodiazepines, whatever). Because I have already freaked out for the both of us.
Okay, ready?
Brilliant Retro needs a new zipper.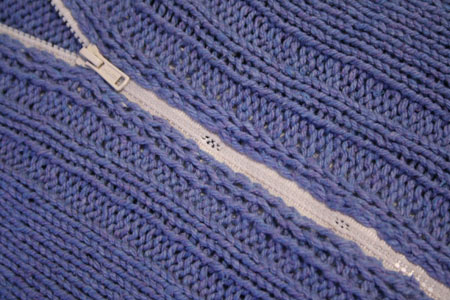 As I readied my sweater for its reveal, I fired up the iron to give it a quick once-over. Specifically, I wanted to go over the grosgrain ribbons to smooth them out, which worked spectacularly! But while ironing the ribbons, I somehow managed to go over the plastic zipper, melting its teeth. It took a lot of effort to close the disfigured zipper for the photos, and it's a miracle the cardi didn't pop open while I took and processed the pictures. And now… well, now the zipper has no intentions of opening. Ever again.
Gulp.
I take this as a sign from the Heavens (and Claudia) that I should upgrade to a matching zipper from Zipperstop. Though I kind of liked the contrasting cream… Anyway, several blue-ish zippers have been ordered, along with a color card for future reference.
Why all this trouble? I think this is the most wearable sweater I've ever knit.
0
likes