It's happened only a few times so far – a fully finished object appears, seemingly out of the blue. No swatches, no turmoils, no ripping… voilà! Here it is! I concocted it out of thin air! While I was sleeping!
Yeah, right.
All of the headache and heartache is behind the scenes, and simply doesn't make it to the blog for one reason or another – gift, publication, shortage of time. Defeats the purpose of a knitting journal, don't you think? This is where we record all our thoughts and observations, chronicle the birth and development of every project.
Alas, reality isn't always ideal, and sometimes we're forced to read the final chapter before devouring the full story.
The final chapter: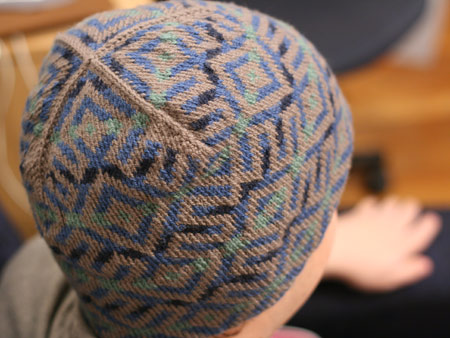 Pattern: design based on a Komi mitten pattern in Charlene Schurch's Mostly Mittens
, p.66. Figuring out all the other details was my own doing.
Yarn: Louet Gems sportweight, 100% superwash merino; one 50g skein of each 16/indigo, 57/French blue, and 50/sage; two 50g skeins of 43/pewter; pewter was the dominant color throughout.
Needles: US 2 Susan Bates 16″ circular
and Boye dpns
.
Gauge: stranded colorwork: 7.5 stitches and 8 rounds per inch; single-color stockinette: 5 stitches and 10 rounds per inch.
Finished dimensions: approximately 22″ in circumference and 8.5″ deep.
The full story: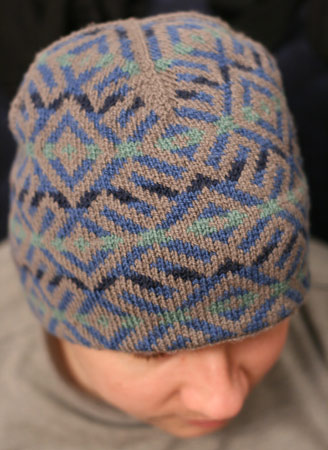 I'm not sure why I never got around to posting about this project. It certainly took me a while to knit it, plenty of time to snap a photo and make a formal introduction. I guess other discussions took precedence – while working on this hat, I also completed grandma's beret, my Brilliant Retro (nope, not done seaming yet), and one other project which I'm saving for a future date.
Now let's take a step back.
Mostly Mittens
is a treasury of Komi patterns, from the Komi region of Northern Russia. The stitch patterns are very angular in nature, and allow stunning color combinations and transitions. In this book, the patterns are showcased in the form of mittens, though Komi hats, sweaters, socks, and other knitted objects are also breathtaking.
Several patterns from this book have always spoken to me, especially those with a uniform main color overlaid on a subtly-changing background (or vice versa). So, when an opportunity to knit a Komi hat presented itself, I immediately agreed, reasoning I could transform one of those lovely mitten patterns into a hat pattern.
I settled on mitten pattern #20, p.66 (you can see a picture here), and made the following changes:
placed 4 mitten patterns side by side, which added up to a circumference of a hat
changed the shape of the mitten chart to better fit a head
altered the pattern to be worked from the crown down, allowing me to stop when the hat was just the right depth (remember the extra Papal rounds?)
used 3 background colors instead of 4 – Louet Gems proved to be a great choice for this project: wonderful color palette, every skein was uniform thickness, and stranded knitting was a breeze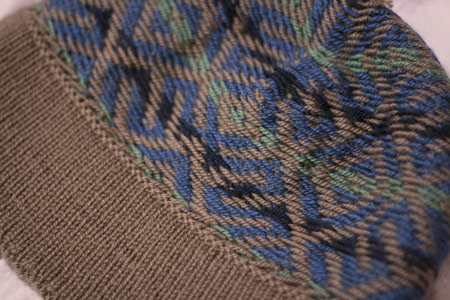 Once I completed the stranded part of the hat, I knit a turning round, and decreased about 30% of the stitches for the lining. Seems like a lot, doesn't it? Well, the hat is pleasantly loose on the head, not my typical beanie at all, and the lining needed to be significantly smaller to keep the hat snugly on the head. Plus, we all know that gauge differs between knitting with one color, and stranded knitting (specifically, stranded knitting is more dense). So, I needed to decrease even more than expected to make up for the difference in gauge.
After knitting the lining for a good 3″, I cast-off loosely (in purl: rolls less), and liberally whip-stitched the lining into place. Liberally because the circumference of the lining is smaller than that of the hat, and I didn't want the point of attachment to draw in the stranded fabric any more than it had to.
The end result – hat stays on, keeps the ears entirely warm, and the lining is inconspicuous from the outside.
0
likes