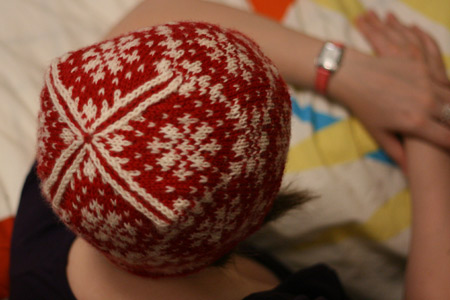 No better way to start the new year than with a wonderful new hat!
(Though I technically finished it in 2006, but who's counting?)
Pattern: Kristen by Bea Ellis Knitwear, generously gifted to me by Ashley.
Yarn: Dale of Norway Heilo, 100% wool, 1 skein each of 0020 (natural) and 4227 (cranberry); lined with scraps of Tilli Tomas Pure and Simple 100% silk.
Needles: US 5 Susan Bates 16″ circular
and Boye dpns
.
Finished size: about 20″ in circumference and 7.5″ deep.
If you can believe it, this is my first ever Fair Isle hat. In fact, I haven't knit too many hats in general, and this is only my third go at Fair Isle (the first two being a pair of mismatched socks).
I'm not sure what I was waiting for – what a gratifying project! I loved working with the woolly goodness that is Heilo. For the first time I had absolutely no fear of dropped stitches – the furry yarn grabbed on and would not let go.
True to its nature, the red yarn bled during blocking, but I don't think it tinted the white too much.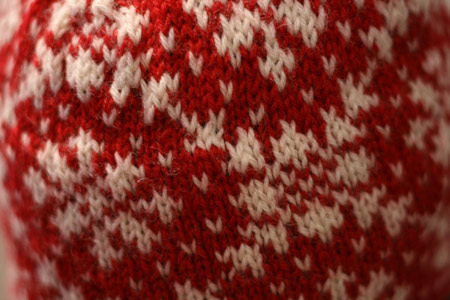 As you can see, my tension is still a bit wonky – in many places the red recedes too much. I should note that in addition to my inexperience, two factors made the peaks and valleys more evident – first, I selected white to be the dominant yarn. Second, the red Heilo was just a teensy bit thinner than its white counterpart, allowing it to further sink into the background. I figure everything will even out with a bit of wear.
The pattern was easy to follow, though I found two mistakes in the chart. I've contacted Bea Ellis to let them know, but I don't expect to hear back until after the holidays.
Worked up quickly, too! Would be even quicker if I omitted the 13 Papal rounds from the very beginning. But the surgery was successful, so it's water under the bridge: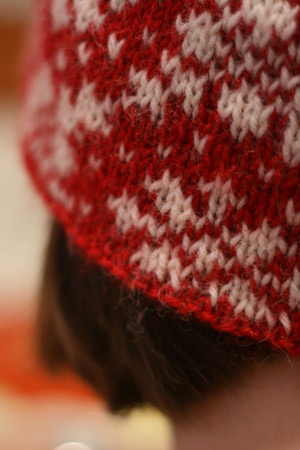 You can see some imperfections in the very first two-color round. That's because I had to knit the white stitches (well, the bottom halves of the white stitches) through the back loop. However, chopping off those few extra inches was a whole lot easier than reknitting the hat, and all the loops have been secured, so this technique proves handy once again.
My favorite part of this hat has to be the lining.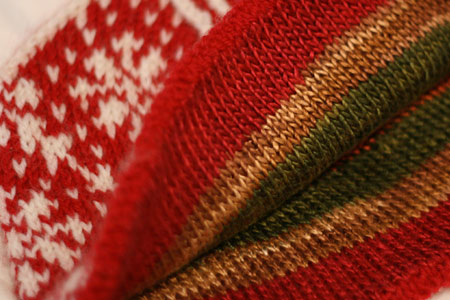 So slinky and smooth, heaven against the delicate skin. Also, I get a little giggle knowing that only a select few are privy to the explosion of color inside my hat.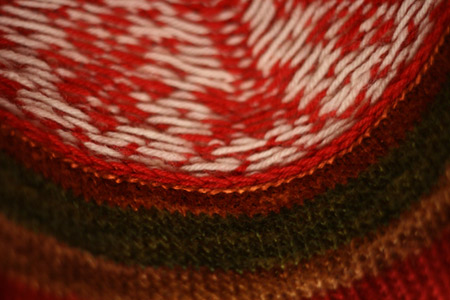 Using chain stitch to attach the lining was pretty easy, though I had to force myself to keep the stitches loose in order to minimize any puckering.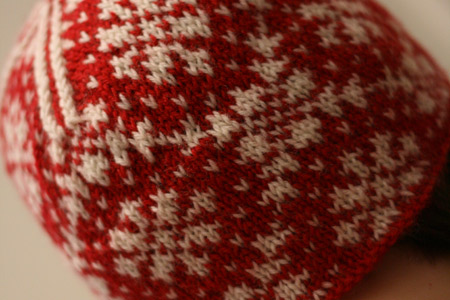 You can see where the lining ends, although I think it's mostly due to thickness added by the silk, not my attaching method. In any case, a small price to pay for the way my ears feel when I wear this hat :).
0
likes