I cannot think of a more fitting tribute to one's grandmother than designing a pattern for her, and distinguishing it with her name. Presenting: Roza's socks.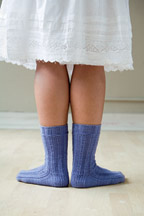 The yarn is Lorna's Laces, naturally. In periwinkle, of course.
I know the preview image is a bit small for seeing the stitch pattern detail, but I believe I'm allowed to show you an alternate picture (one I took myself):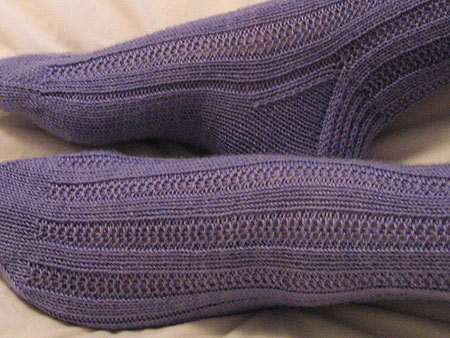 Now you see it :). And if you'd like to knit it, check out the Spring 2007 Interweave Knits once it's on the newsstands.
This latest use of Lorna's Laces has propelled me to create the following button:

I'm a Lorna's Laceaholic, and I'm proud of it. My budget, however, feels differently about this addiction. If you, too, are afflicted with undying affection for all things LL, feel free to swipe this button (saving it to your own server, of course).
What's next for me? Something not periwinkle. Sheesh!
I want to tell you about my Brilliant Retro progress, but it's very close to periwinkle. So, not right now.
Instead, let me show you this collection of Louet Gems Merino Opal (sportweight), another one of my favorite yarns: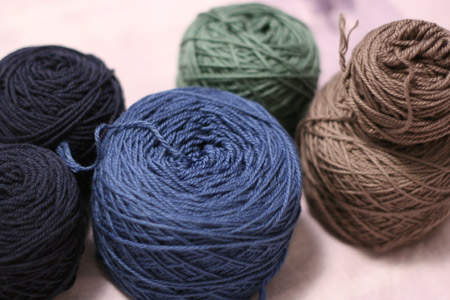 From left to right, indigo #16 (left over from these socks), French blue #57, sage #50, and pewter #43. (Also in the stash, should a substitution be necessary: pink panther #51, crabapple #26, Neptune #15, lavender #09, and cream #30. Like I said, this is a favorite of mine).
All this to create a hat using a Komi motif from Charlene Schurch's Mostly Mittens
. Let the swatching begin!
0
likes