Not only finished, my friends. The Brilliant Retro is now in full block mode: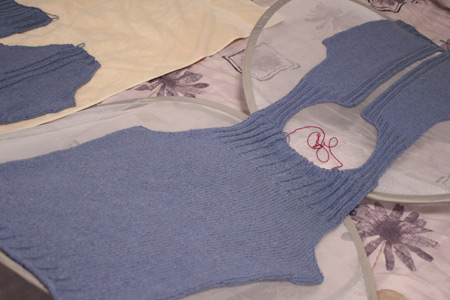 The question always comes up – at which point does one block a handknit sweater project? After all pieces have been knit, but before seaming? What about the cuffs, button bands, collar, hood, etc.? Sometimes those finishing elements can only be attached after seaming. Maybe the sweater in its entirety should be blocked? Or re-blocked?
There is no simple answer, and no single solution to this question. My personal preference is to block individual sweater pieces whenever possible, just because they're easier to handle.
It's also a way out should something unpredictable happen. What if your knitting grows in length much more than indicated by your swatch? It's difficult enough to redo the upper portion of 4 or 5 individual pieces of knitting… imagine having to rip out the seams first. (This, by the way, is the reason I prefer to knit sweaters in pieces: front(s), back, and sleeves).
Or what if there was a problem with one of the skeins, and the inconsistency showed up only after washing? I'd much rather contemplate replacing the offending portion of knitting without undoing all the seams first. (Another argument for knitting sweaters in pieces).
But sometimes a little seaming before blocking is inevitable. I might be working with a yarn and/or pattern which doesn't look good until blocked, or changes its shape/texture dramatically upon blocking. Then the collar, button bands, etc. will probably need to be blocked, too. In those cases, I'd join the minimal number of seams necessary for the collar to be added, knit the collar, and block some front-collar-back hybrid, much like you see in the photograph above. Or I'd block the pieces individually, seam the sweater, attach the collar, and spot-block the newly-attached elements with the help of a spray bottle or careful dipping into a basin of water.
In the particular case of the Brilliant Retro, I joined the fronts to the back before blocking: there were long strands of yarn at the shoulders, left there for the purpose of doing 3-needle bind-offs. I didn't want to leave them dangling (and tangling) throughout blocking. I suspended the fronts-back hybrid on two of those sweater dryers
placed side-by-side: handknit pieces definitely dry quicker when air circulates all around them. The sleeves were blocked without any seaming. I will be attaching a collar post-seaming, but I don't think I'll need to block it – this yarn knits up pretty evenly, and doesn't change much when wet. If I do decide to block, then I will wet it with a spray bottle.
The collar isn't the only finishing element in this sweater – there's a zipper to worry about! But look at those edges: they are neat and tidy, no further knitting required!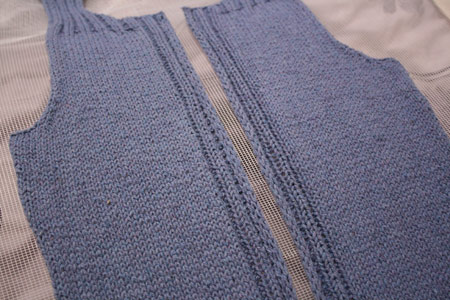 Some may point out that the back of the zipper can look rather unattractive, and suggest a knit facing. Perhaps, like me, they've recently browsed through Finishing Techniques for Hand Knitters
and were quite impressed with the neatness of of their zippers, like the one on the cover :). However, I don't think a knit facing is in my future: I'd rather chew off my little toe than knit two bands, each 1″ wide and 19″ long. Instead, I'm contemplating backing the zipper with grosgrain ribbon, much like Melissa did here. And, oh, there are so many beautiful ribbons to be had…
0
likes