The ridiculous spoiling of my grandmother continues.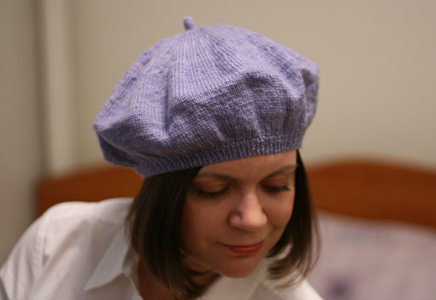 Pattern: simple beret, embellished with a little nubbin.
Details extracted from a variety of sources (Kate Gilbert's Speckled Beret, Ann Budd's The Knitter's Handy Book of Patterns
, Charlene Schurch's Hats On!
, research at local department stores), then chewed up and spit out by yours truly.
I will share the recipe with you, but not in the immediate future – I still have unanswered questions about this whole tam/beret business, and I have books ordered through my library to learn more. Plus, after knitting this beret 4.5 times, can you blame me for wanting to move on? 🙂
Needles: no less than a full menagerie of US 1 and US 2 knitting implements (Boye steel crochet hook, size 2; Susan Bates dpns, US 1
and US 2
; Inox aluminum 16″ circs, US 1 and US 2; HiyaHiya 24″ circs, US 2).
Yarn: Lorna's Laces Shepherd Sport in periwinkle, 1 skein (in its glorious entirety).
Gauge: about 7 stitches and 10 rows per inch.
Finished dimensions: about 11″ in diameter.
Lorna's Laces continues to meet and surpass my expectations – what other yarn can be entangled in mohair, knit and reknit, and still come out as good as new at the end? Plus, the semi-solid colorways are simply amazing for the kind of knitting I typically do.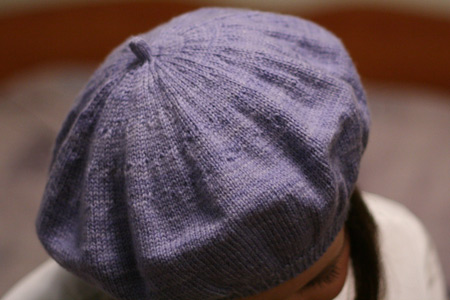 I am hoping the beret has just the right volume and drape for my grandma. I definitely can't envision my grandma liking a stiff fold line, which is why I didn't block over a plate.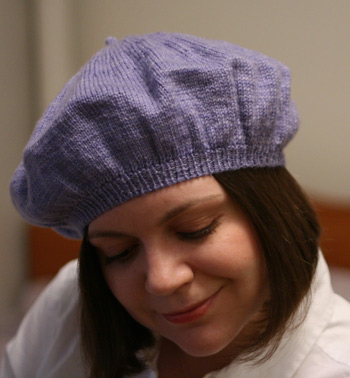 Last, I threaded 2 strands of thin elastic close to the cast-on to keep the beret firmly on the head. I think it makes a huge difference, functionally speaking, without altering the outside at all.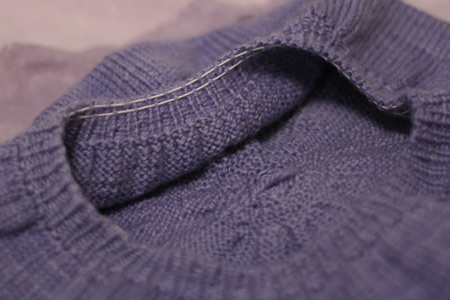 Although obtaining the proper beret shape and size proved to be tricky, I'm so glad I didn't stop until it was perfect. When it comes to my grandma, "good enough" simply won't do. I will revisit this entry every time I contemplate ripping and reknitting – sometimes the end product is worth the pain of starting over.
0
likes