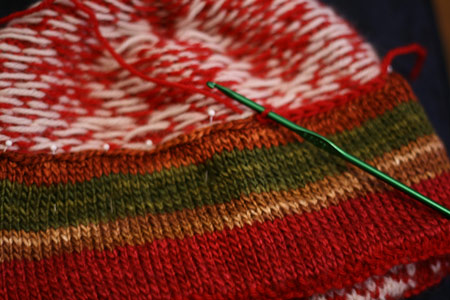 Tell me – is there anything more scrumptious than lining an honest to goodness woolly hat with 100% silk? Definitely Candy for all the senses.
Considering I had to reknit the hat lining after chopping off the offending Papal bit (ahem), I figured I might as well upgrade from the cotton included for this purpose in the Bea Ellis kit. Don't get me wrong – it's a fine yarn for a lining, but getting gauge required knitting very, very tightly, and the resulting fabric was stiff and bulky. Just look at how it used to sit on my head, with a rather unattractive ridge where the cotton strip ended.
Silk, on the other hand, hardly adds any bulk, flows freely and conforms easily to the shape of the hat (and the head), and feels wonderful against my skin. An easy choice, if you ask me.
Fabulous silk, too – scraps (can't even call these pithy lengths "remnants") of Tilli Tomas Pure and Simple 100% silk, left over from knitting the Egyptian dress. Oh, how I love the way this yarn smells. Green tea… mmm….
I'm attaching the lining using simple chain stitch as I did once before. At least that's what I think it's called. Don't quote me on that :).
0
likes