A new camera is a blessing in disguise – on the one hand, it can help me convey fabric, color, and texture like I've never been able to do before. On the other hand, during my spare time (ha!), I'm much more likely to pick up the new toy than some familiar wool and needles, resulting in slower-than-typical progress.
I'd say that over the past few weeks I've spent way more time photographing, playing with the settings, and absorbing everything I can about SLRs than knitting. To show you that I've been doing something, here's yet another shot of grandma's sock-in-progress: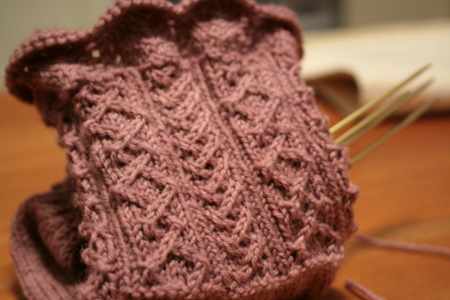 I'm flattered that some of you assumed this was my own pattern. Alas, I cannot take credit for this gorgeous design: it is Nancy Bush's Traveler's Stockings from Knitting on the Road
. This book is one of my favorites, filled with fabulous patterns from cover to cover. Including Traveler's Stockings, I've knit 4 of them already!
While I continue to work on my grandma's latest pair of socks, I can't help but contemplate bigger projects.
I've knit only one sweater this year, but have formulated a nice, solid selection of potential sweaters in my mind: Salina from Vintage Knits
, Phyllo Yoked Pullover from Knitting Nature
, Moonlight from Rowan 34, (highly modified) Brilliant Retro from the Winter 2005 IK, (highly modified) Alpaca Twill from the Fall 2006 Knitter's…
Even the stash is cooperating – 10 balls of Classic Elite Princess in Ladylike Leaf and 9 balls of Classic Elite Classic Silk in Cobalt are more than happy to become sweaters for me.
But my mind turns to lace, once again. I know, I know. You don't have to remind me that I already have two lace projects on the needles. One day soon I'll explain to you why I'm not in any rush to finish Ene, and let's not even discuss Mountainash.
Therefore, am I not allowed to start another lace project??? Especially from the uber-fabulous Victorian Lace Today
, about which I've been dreaming right along with you.
My eyes scatter (Russian saying) every time I look through that book, I don't know where to start! Today I took a deep breath and made a choice, knowing that eventually I'll work my way through all my favorites; it's only a matter of time ;).
My choice: the Melon scarf.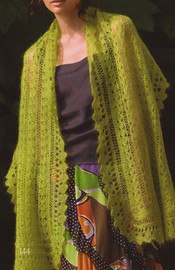 It's not a difficult pattern, which is good considering I'll be modifying the specified size a bit – as usual, I want something smaller, more manageable for everyday wear.
You know what solidified my choice? I think I just might have the perfect yarn…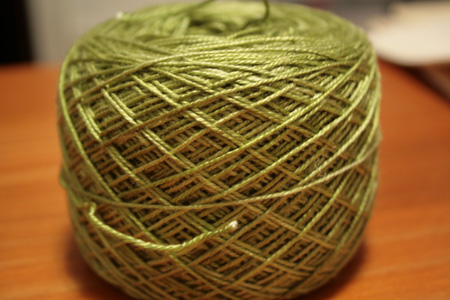 Hand Maiden Sea Silk in Moss. I have 1 skein, 438 yards – the Melon scarf will indeed be only a scarf.
0
likes