First, a big thank you to everyone who complimented my skirt! Since I'm new to sewing, your words of encouragement are particularly appreciated. As I become more proficient, I hope to show you sewing FOs more frequently. For now, each little thing takes me forever (but forever is better than half-assed, if you ask me).
Second, for completeness' sake, I wanted to share with you Caitlin's prize for submitting the 500th Jaywalker!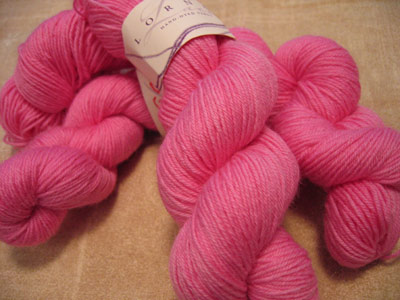 Lorna's Laces Shepherd Sock in pale pink, which is anything but pale. Congratulations, Caitlin!
Third, quicker than expected, I'm approaching the end of my dad's new scarf, which means it's time to discuss the perpetual question: what is an appropriate length for a handknit scarf?
Last year my dad specifically asked for a shorter scarf, and I knit him a 53″ long Sharfik. As it ends up, he thought it was a bit on the short side and wants the new one "longer."
But what is "longer"? I'm not concerned about running out of yarn, or trying to squeeze the scarf out of a limited number of balls – I'm getting 27″ out of each skein of Sundara's sport merino, so I am definitely going to use all three that I had her dye up. In fact, I can make it as long as 81″! Hmmm…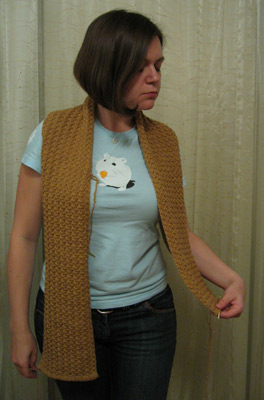 Yes, I'm a loyal Cute Overload reader, and proud of it!
In the picture, the scarf is 57″ long. If it was mine, I'd bind off right now – it's perfect length. But for a 5'7″ man? What do we think???
0
likes