While visiting my family over Thanksgiving, my grandma showed me her sock drawer. It was filled with handknit socks of all different colors and patterns. I did not snap a picture: grandma was almost in bed and I didn't want to keep her up.
I noticed some of the older ones were (finally! thankfully!) gone – I don't like it when grandma mends her socks, I'd sooner just knit her another pair. This old soul was still hanging on… Each pair reminded me of a time in my life – so many memories… some good and some bad.
She showed me her sock drawer as testimony that she has plenty of socks, and I don't need to knit her more with any kind of urgency. Quite the contrary, grandma: the way you cherish these gifts and the happiness they bring you will propel me to knit pair after pair.
In fact, between the car ride there (7 hours), the car ride back (3.5 hours), and standing in line to visit the Statue of Liberty (2 hours), I finished the newest addition to grandma's sock drawer: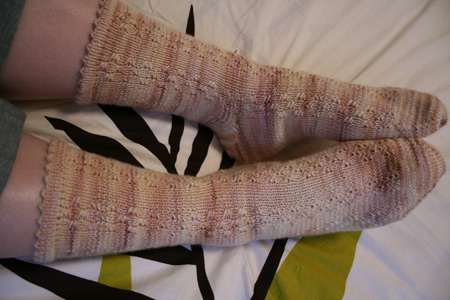 Pattern: simple 60-stitch stockinette sock with picot edge (à la Claudia), short-row heel (à la Wendy), flat toe (à la Nancy Bush
), and herringbone stitch detail (à la Stitchionary
, volume 1).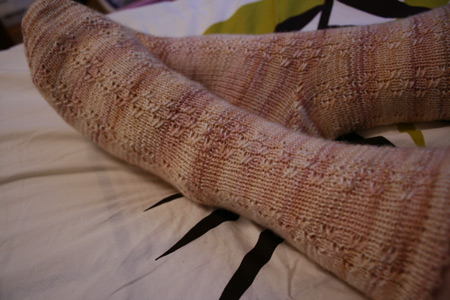 Yarn: Claudia Hand Painted Yarns fingering weight 100% merino wool, Butter Pecan, 2 skeins.
Needles: US 0 dpns, set of 5 (these ones
).
The yarn is one of the softest I've ever worked with, very squishy. This led to some initial sizing mishaps, but in the end I was able to correct for the yarn's stretchy nature. I had grandma try on the first sock, and the fit received an enthusiastic 'thumbs up' :).
The weird pooling, however, continued to haunt me, more evident in the second sock of the pair. As they say, that is the nature of the Handpainted Yarn Beast. What bugged me more was the way the colorway knit up, more muddy and mottled than you'd expect from the skein: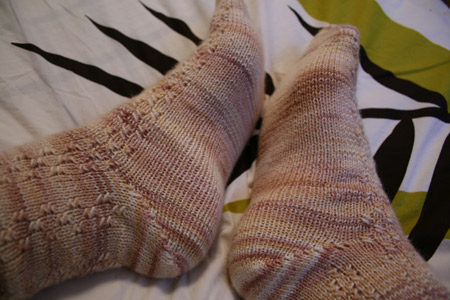 Not surprisingly, the next yarn I reached for was the tried and true Lorna's Laces Shepherd Sock in old rose (44ns); a gorgeous colorway, reminiscent of raspberry yogurt.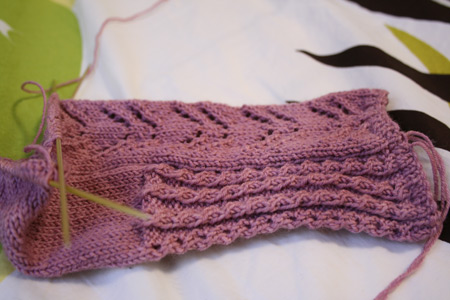 Ellen's Stockings from Nancy Bush's Folk Knitting in Estonia
(I know this book is hard to find, but I think it's worth the hunt).
What'd you expect?!? I'm the queen of chain-knitting socks for grandma, and the next pair is well on its way. It is my mission to have the most spoiled grandma on the face of this Earth :-D.
0
likes