Well, there you have it: ask, and you shall receive. After reading all your suggestions, checking scarf lengths in some patterns and online stores, and remembering that there's still fringe to be added (dad likes fringe, go figure!), I decided to aim for a length along the lines of 62″.
My primary reason for going with a somewhat shorter length is remembering that gravity is not a scarf's best friend: what is 62″ today will be 70″ in March. Trust me. Second, although I wasn't 100% sure, I reasoned that perhaps the yarn would bloom a little after a nice soak in the tub.
I know you're shocked that I didn't wash my swatch. Shocked! Just wait… I tell you this in a hushed voice… gulp… I didn't even swatch. Oooooooooh nooooooo! The universe has just crashed on itself.
Hehe!
I'm still here. How about you?
Anyway, I bound off at precisely 62″, let the scarf soak while I ate breakfast, spread it out, and, lo and behold, 62″ long and 7″ wide –> 70″ long and 8″ wide. No worries – been there, done that. As soon as the scarf is dry and "settled in," I'll unpick the bind off and take away about 8″. I'm glad I didn't attach the fringe before blocking!
Oh, and about the title of the post? Remember my Backyard Leaves scarves?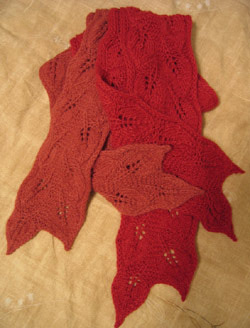 For some reason I was absolutely determined to use every bit of the yarn when I knit those (4 skeins of elann's Peruvian Collection 100% alpaca each). As a result, each scarf was 90″ when I finished. And now? 100″.
Good grief! That's almost the length of a football field!
For some time I've been thinking about undoing the ends and shortening the rose-colored one (the raspberry one was gifted) to, oh, 60″. But then I remember… right! I'm allergic to alpaca!
I knit that scarf very early on in my knitting career, and didn't realize that the constant itchiness, redness, and flaking of the skin on my fingertips was out of the ordinary. When it happened again with other alpaca yarns, I learned to stay away.
Do I dare make it interesting? I'm sure many of you would like to have this scarf (and do to it as you please – shorten, felt, whatever).
Contest! Contest! Contest!
Leave a link to an amusing, interesting, intriguing, etc. knitting-related photo on your blog, or e-mail it to me. Be as specific as you can – a link to the photo itself or the blog entry permalink would be perfect! (in other words, I'm not going to be searching through your archives for the second entry you made on July 16, 2005).
I'll consider all the submissions received by Sunday, November 5th, 9 p.m. EST and pick my favorite. You will receive the rose Backyard Leaves scarf. If you don't want the scarf, please note that in your comment/e-mail (but unfortunately you won't receive a different prize).
I see it as a way to visit new blogs, get to know more of my readers!
0
likes