I'm glad you guys share my enthusiasm for my dad's new scarf, and thank you so much for your compliments!
To answer a common question, the scarf is not reversible. Although I didn't snap a picture of the back, it looks pretty much like reverse stockinette (all purls). Interestingly, the pattern didn't curl much at all, and blocking completely curbed any such tendencies. Some stockinette-based cable patterns do that sometimes, when knit at just the right tension.
Anyway, a name has been chosen (with a little help from a friend), and the pattern is almost ready for its reveal. Stay tuned!
Today I'm thrilled to share with you the goodies I received from Ashley as a prize for winning her blog contest. Now, I'm not much for entering blog contests, and typically find myself even less inclined to blog about any winnings. However, Ashley did such a marvelous job putting together Grumperina-friendly items, that I had to share. Besides, some of them will reappear on the blog, so I might as well introduce them.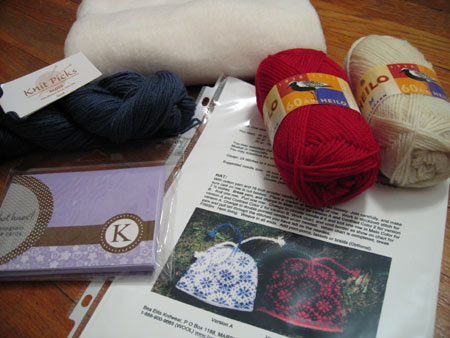 A set of monogrammed note cards (I love note cards and use them all the time!), a skein of KnitPicks Gloss (I've been meaning to try this yarn, and Ashley knew this!), and last, but certainly not least, a Bea Ellis Kristen hat kit in red and natural.
I've been meaning to get myself this very kit ever since I saw Kristen's months and months ago. And now I have it, mine, all mine! Ashley also included some fleece to line the hat (20 times over – such a generous length of fabric!), knowing that I'm wooly-sensitive. Purrrrrfect!
Thank you, Ashley! I'm so happy to have won your contest!
As for my own contest, it reaffirmed what we already know – knitbloggers have a great sense of humor and an eye for the unusual.
Selecting a new owner for my Backyard Leaves alpaca scarf was not easy. After I narrowed down all the entries to 13 semi-finalists, the task became almost impossible! However, there is only one scarf to dole out (though at 100″ long, it could easily be two), so without further ado, the winner is Amy of stash, knit, repeat!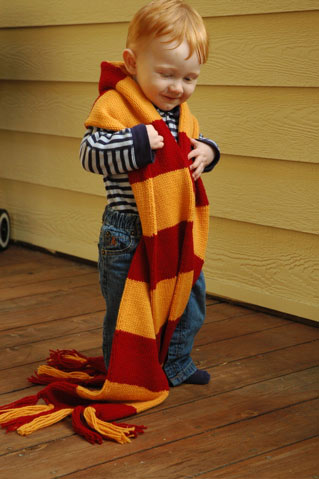 I couldn't resist the little redhead, what can I say?!? Congratulations, Amy! One obnoxiously long alpaca scarf coming your way!
Continuing with the topic of giving and receiving, the happy green socks have safely landed in Wyoming on the feet of one happy Stephanie. Enjoy your socks, Steph! Knitting for someone I consider a friend has been that much more rewarding ;).
0
likes