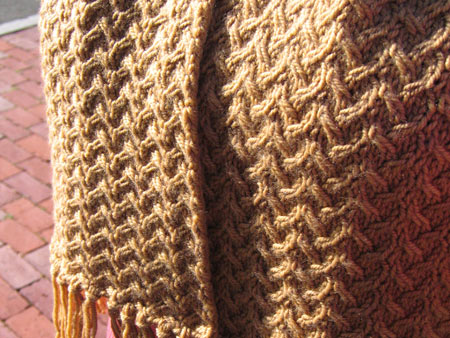 Pattern: My own*
Needles: Bryspun straights, US 5 (3.75 mm)
Yarn: Sundara Yarn sport merino, Somewhat Solid in Tan over Cream, 2 skeins (plus a bit of the third for fringe).
Finished size: 7″ wide and 60″ long (plus 3″ long fringe).
Boy oh boy, this one really worked out! After learning that my mom felted the scarf I knit for dad last year, and hid this indiscretion from him for several months, I did what any good daughter would do: knit him another!
And if I do say so myself, it turned out to be new and improved.
Sundara's sport merino is superwash (check!).
The yarn is tightly spun and hopefully won't pill (check!).
Thought it's not Debbie Bliss Baby Cashmerino (one of the few wool yarns which I can wear around my neck), I was quite comfortable during the photo shoot (check!).
The color is warmer and more flattering (check!).
I included a neat selvedge (pat on the back!).
I'm thrilled with the texture and drape – knitting with thinner yarn truly made a difference. The scarf hangs lightly around the neck, folds and flows effortlessly. The original Sharfik, knit out of worsted weight yarn, stood up at attention and felt a bit bulky.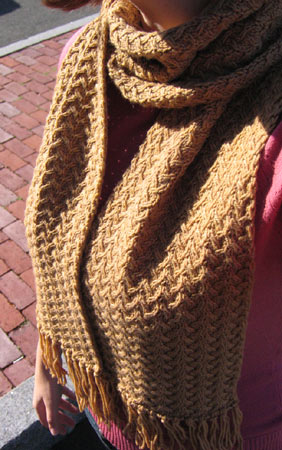 You'll note that I made this scarf 60″ long, though the majority of you advised on the order of 65″-70″. In my head I was thinking 62″ would be perfect for dad – longer than last year, but not so long that it would peek out from the hem of his jacket. I was very close 🙂 – a phone call confirmed that 60″ would be the ideal length.
The scarf did stretch during blocking, but then contracted a bit after fully drying. Still, I had to undo the bind-off and take away some length… resulting in needing only 2 skeins of yarn for the actual scarf, and using the third only for a bit of fringe. Better safe than sorry!
Now I anxiously await my dad's verdict. Remember, this time around I chose the pattern, the yarn, and the color myself; he has not had a preview of any kind. Surprise! (I'm sure he'll love it :)).
* Regarding pattern requests: Yes! Just give me a few days. I need to write it up and come up with a clever name (not "Sharfik, v. 2.0").
0
likes