The weather has been glorious here in New England, a total distraction from yarn and needles. But I'm not deceived – chillier nights are coming, and, as always, grandma needs a new pair of socks. Between this, that, and the other, I finally finished her Whitbys: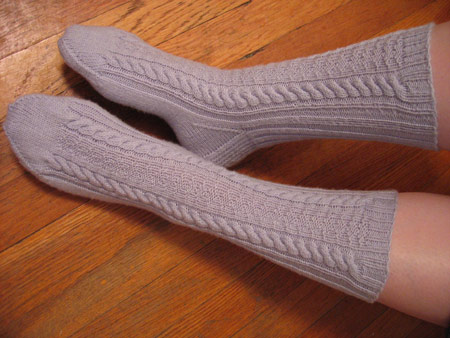 Pattern: Whitby from Nancy Bush's Knitting on the Road, sized up a bit to accommodate grandma's wide feet.
Yarn: Regia Silk, #054, 2 skeins.
Needles: US 1 dpns, set of 5 (these ones
).
This one was as simple as can be – everything seemed to work from the very beginning. No frogging, no thinking, just pure knitting joy. The yarn is quite lovely, very squishy and soft, and worked exceptionally well for ribbing as well as cables.
You may notice that between various progress photos and now the yarn has acquired a little halo… and also maybe the cuffs aren't as long as they once appeared.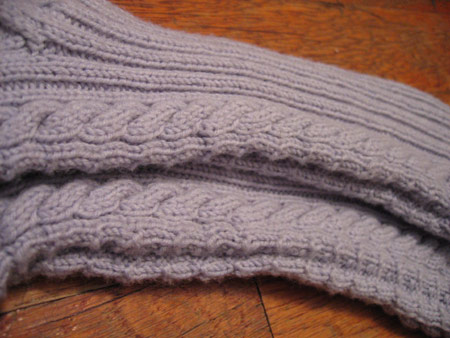 Ooof!!!
This is what happened: typically I don't hesitate to machine-wash superwash wools, but take the time to lay them flat to dry, regardless of whether tumble-drying is suggested by the manufacturer or not. However, I'm going on a trip in a few days and wanted to get these out to grandma before leaving. So, following the laundering directions on the label of the yarn, I machine-washed the socks, then tumble-dryed them on low.
BIG mistake. While the socks looked fine after the washer, the dryer messed everything up. They came out fuzzy and sort of worn-looking! Plus, they are significantly smaller than when I knit them – they now fit me! I wear size 7 shoes, and grandma, size 10!!! I hope that after grandma wears them a few times, they'll stretch to accommodate her foot. They better! And I've learned my lesson – no dryer for Regia Silk!
I'm not sure whether I'll be able to squeeze in another post before my trip (if not, see you in about a week!), so let me give you a very quick rundown on other knitting currently in my life: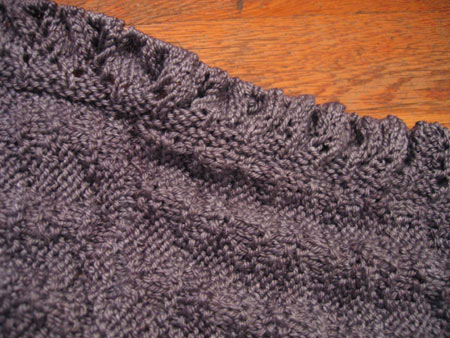 Mmmm…. stitches!
0
likes