Part I: HORROR
Sunday, May 8th, 2006. My parents' house.
Mom: Good morning! I'm glad you're awake.
Me: (yawn) What's up, mom?
Mom: I accidentally machine-washed your dad's scarf.
Me: The one I knit for him? Oh, no!
Mom: I know! I remember you told me to not wash it in the machine… but I was washing all the winter accessories, and I guess it accidentally ended up in there with the rest of 'em!
Me: Was it hot water? What happened?
Mom: Well, it looks different. Let me bring it up and show you.
(5 minutes later)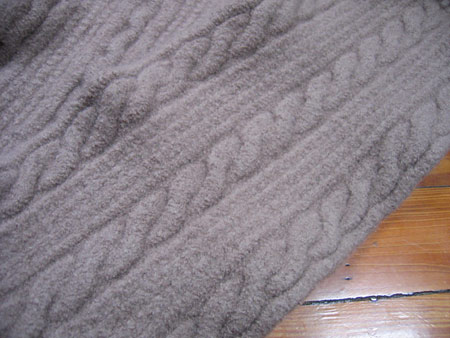 Felted Sharfik, as stiff as cardboard 🙁
Mom: Can you fix it?
Me: No, mom. The fibers are now all locked together, and I can't reverse it. It's ruined.
Mom: Oh no! Oh no! Will you knit your dad another?
Me: Of course! That's the only thing to do…
---
Part II: GUILT
May 9th, 2006 – August 7th, 2006. Every phone conversation with my mom.
Mom: How are you?
Me: I'm good. I'm working on (fill in the blank, whatever knitting project was occupying me at the time).
Mom: That's great! Don't forget, your dad needs a new scarf.
Me: I remember… I'm a little busy now, and I haven't yet decided on the yarn, but soon.
Mom: No rush. But he'll need a new scarf in time for fall.
---
Part III: DECEPTION
August 8th, 2006. Phone conversation with my mom.
Mom: How are you?
Me: I'm good. I just finished dad's socks, and now I'm working on a pair of colorful socks for Grandma.
Mom: That's great! Don't forget, your dad needs a new scarf.
Dad (heard in the background, to my mom): What happened to my scarf?!?
BUSTED!
---
And so, my friends, I discovered that not only did my mom felt my dad's scarf, but that she hid this fact from him for about three months. I guess she just wanted to pull a quick one, switch the new for the old and hope that he wouldn't notice (knowing my dad, not impossible).
But now he knew, cooler weather was on the horizon, so it was time for me to step up and knit my dad a new scarf.
Would I knit him another Sharfik? Nope. Why?!? Considering he likes his scarves "simple and very pleasant," without much further moodiness (unlike his ultra-picky daughter), the possibilities are endless. Vary this cable, this ribbing, this width, and voila! A whole new scarf, and no knitting déjà vu, "haven't I already knit this?"
I revisited the scarves we considered last time (still love this one), and surfed around the web for some new ideas:
(click on picture to buy your own!)
The Orvis scarf is so cheap, I'm like, WTF? I should just buy it. But it wouldn't be the same. The Blue Fly scarf is not exactly what my dad asked for last year, but I'm quite intrigued by the stitch pattern and may go for it! (I have some idea of how that stitch pattern is made, but swatching will be a must).
Speaking of swatching, about the yarn?
I didn't want to use Karbella Aurora 8 again because I knew I could do better. First, I wanted a superwash yarn because… well, you know ;). Second, I wanted something thinner than worsted weight – while a lofty, squishy, thick scarf feels amazing around the neck, it can be a hassle to squeeze under a jacket. Third, I wanted a yarn which wouldn't pill as much, something spun a bit more tightly. Fourth, I knew the color could use some improvement. While I know shit about brown (hahaha! hahaha!), I could see that the original Sharfik was a bit flat as far as color is concerned.
All these reasons led me right into the capable hands of Sundara, who worked a little magic, and came up with this small miracle: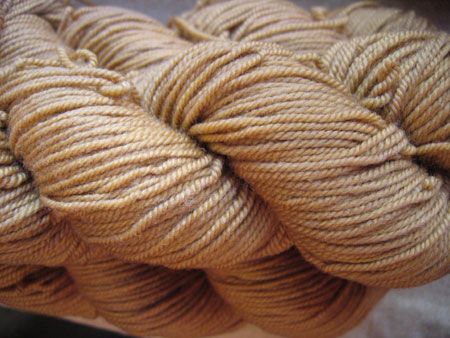 And now the fun begins!
0
likes