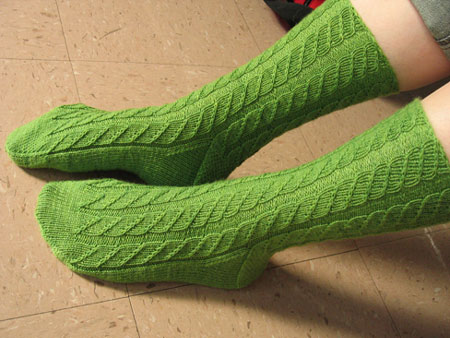 Accurate color (for a change) courtesy of indirect sunlight at the Cambridge Public Library.
Pattern: Hello Yarn's Cable Twist Socks.
Yarn: Lorna's Laces Shepherd Sock in carol green (47ns), 2 skeins.
Needles: US 0 dpns, set of 5 (these ones
).
Socktober socks: check! They are beauties – just the right combination of yarn and pattern. And I simply love the color: a happy green. Not neon, not forest, not emerald, not Christmas, a happy green!
The fit is great! After all, this pattern is nothing more than 6 X 2 ribbing, cleverly concealed with some twists and slipped stitches. Which reminds me: several remarked that you'd never expect such a good-looking sock from Hello Yarn's pictures. I hate to disappoint you, but many sock patterns, especially ribbed ones, look quite different off the foot, all scrunched up and… mysterious. This one is no exception: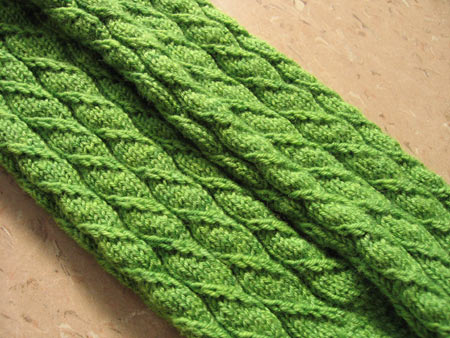 See! Looks just like Adrian's.
As for my modifications, they couldn't be simpler: I worked the sock over 64 stitches, making each repeat 8 stitches wide: k6, p2. Otherwise, I followed Hello Yarn's instructions, including the clever variation on the Left Twist she explains in the pattern (very pretty!).
I used an eye of partridge heel, the instructions for which I swiped from one of the sock patterns in the Fall 2006 Vogue Knitting. But this heel is very popular. Do you see how the stitches form a pretty lattice? Love it!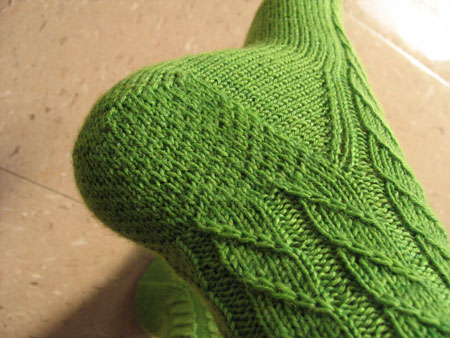 0
likes