I can't think of a more perfect time of year to have finished the Shetland Triangle.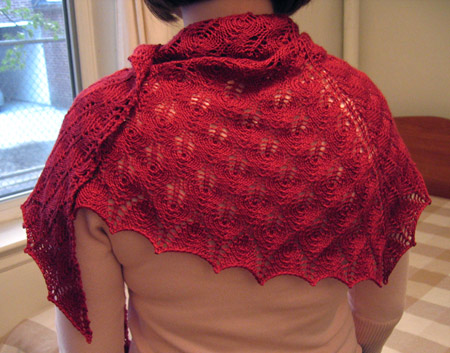 Gloves, scarves and hats will emerge from their summer slumber any day now. Why, this morning, for the first time this year, I searched my jacket pockets for gloves (none were to be found, of course… brrrr!).
Fall is one of my favorite seasons for many reasons, not the least of which is the fall wardrobe – blazers and scarves and boots and general stylishness galore ;). The Shetland Triangle fits right in.
(click for bigger)
Pattern: Shetland Triangle from Wrap Style, by Evelyn A. Clark. Worked as written, except I knit 13 repeats of the Body chart instead of 10.
Yarn: Honfleur by Puppy, 50% extrafine merino, 30% silk, and 20% cashmere; 6 skeins (about 500 yards). The weight of this yarn is very similar to Debbie Bliss Baby Cashmerino, though it's plied in a different way, and has a different texture (DB BC is more springy and lofty).
Needles: INOX Express, US 4 circs (my circular needle of choice for most projects).
Finished size: 56″ across the top, and 26″ deep (admittedly, larger than I had planned, but within my acceptable range :)). (Pre-blocking: 39″ across the top, 18″ deep)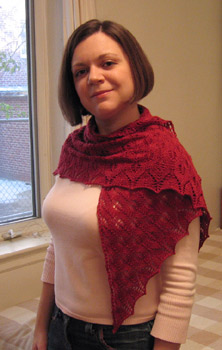 Seems like "the right size", no? In fact, I felt that everything about this project came together to make the right shawl for me. The yarn is soft, not at all scratchy, and blocked to be one of the drapiest fabrics I've ever made. The color is my favorite! The pattern was easy to follow, easy to memorize, and mistake-free. The stitch pattern is pretty, but not so fancy that it promotes the shawl to "special occasion only" status. The needles… INOX Express is always a good choice, and the size worked well with this sportweight yarn.
Last, but certainly not least, I'll always remember that the yarn for this shawl came from Siow Chin. Siow Chin, it was perfect, and the perfect amount! I have about half of one ball remaining. Thank you!
0
likes