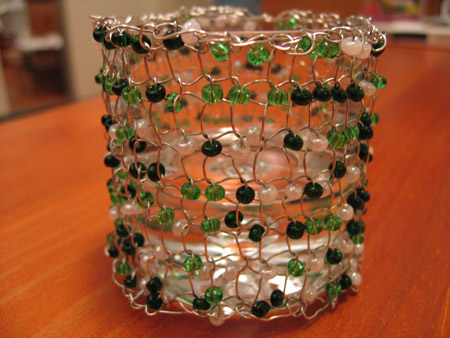 Ah, yes. The sparkly-sparkly always makes us smile.
The first votive for my parents is done, and there are three more to go. For this one I used light green, dark green, and pearly (Odessa leftovers) beads.
The next one is shaping up to be quite different ;).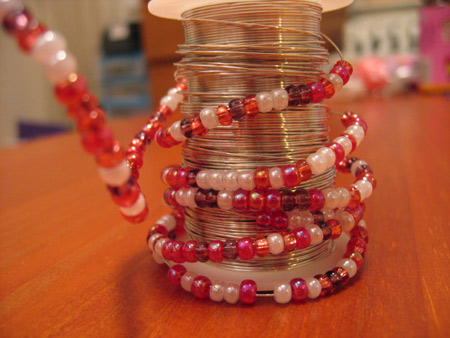 When I told you about knitting with wire, so many commented, "Geez, Kathy, isn't that kind of rough on your hands?!?"
You got me! It's no piece of cake, there are no two ways about it. And it's not just my hands that hurt, it's pretty much all the parts of the body involved in knitting – neck, shoulders, arms, fingers, back… Here, I'll show you: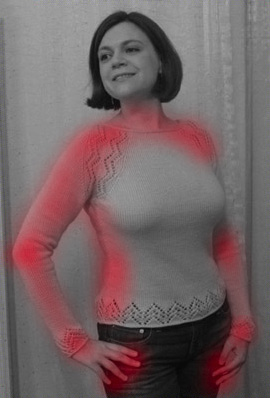 Do I look like a giant throbbing blister? If I'm not careful, I feel like one! However, I've learned to limit my wire knitting to maybe 80-100 sts in any given night, and then I seem to be okay. So, don't worry, I'm not in pain and doing quite well :).
The downside is that it will take me some time to complete a set of four votive sleeves. My parents are "understanding."
Monday, September 25, 2006, 10:15 p.m., phone conversation with my mom
Me: I'm almost done with the first votive sleeve!
Mom: Good!
Me: But I probably won't be done for a little while, because if I knit too much at once, my shoulders and back hurt.
(pause)
Mom: Yeah… Okay. They are so interesting and different and pretty!
0
likes