The current state of the Shetland Triangle is blob: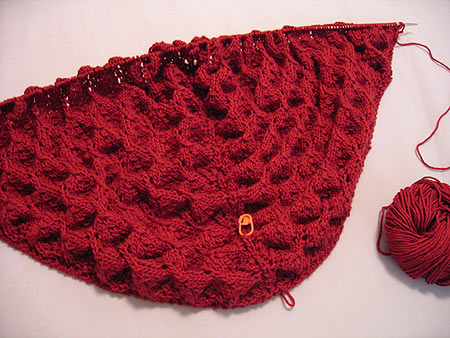 While it's still perfectly comfortable to knit the blob on a 24″ long circular, all the stitches are smooshed together, entirely concealing the blob's true size.
What's a grumpy girl to do?
Simple: take the blob off the needles and onto a length of yarn, and dry-block it!
Better yet, considering the symmetry of the shawl, dry-blocking only half of it works just fine: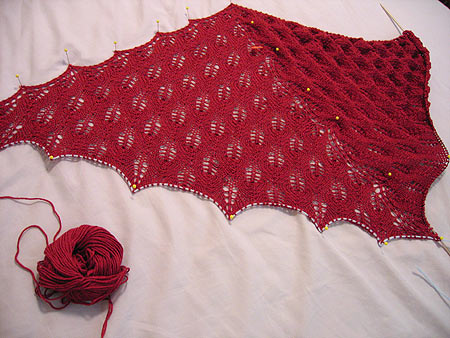 Mmm hmm, measure here and there. Verdict: after 9 repeats of the main chart (I finally counted), it is 37″ across and 19″ deep.
Measuring is easy. Deciding what I want the final dimensions to be is much more tricky. I don't want it to be anywhere near as large as my mom's shawl (29.5″ deep and 64″ across). But the current size, 37″, seems downright petite. So I did some scientific experiments.
Before you scrunch up your nose and roll your eyes, let me say that there's nothing wrong with the generally practiced methods of "knitting until it seems the right size" and "knitting until you run out of yarn." But considering I want this triangle to work with a close-fitting jacket, I'm aiming for a very precise size: as small as possible without looking dinky, if you know what I mean.
So, I first draped the measuring tape around my neck and stood in front of the mirror – where do I want the ends to dangle? Something like 48″ seemed right to me. Second, I whipped out my most favorite silk scarf, and measured it – 52″ across. Okay, kiddies, I'm shooting for 50″-ish.
While dry-blocking, I also measured the size of each fir cone – about 1 5/8″ wide. Since two fir cones are added with each iteration of the chart, the shawl will widen by about 3.25″ each time a repeat is worked. The math is simple:
(desired 50″) – (current 37″) = 13″
(13″ to still knit) / (3.25″/repeat) = 4 more repeats to work.
Whether it will be 3 body repeats and 1 edging repeat OR 4 body repeats and 1 edging repeat I don't know yet. I may need to take the blob off the needles one more time to decide.
Blob, you'll be a scarf soon.
——-
Just checkin' – will I see many of you talented Boston knitters at the 2006 Boston Knit-Out & Crochet Too? If I recognize you, I will say "hi," so I think you should do the same :).

0
likes