I never thought I'd have anything positive to say about variegated yarn, but I find myself engrossed in the ever-changing color of the stitches. A pink, a few more pink, then some blue, lilac, purple, light lilac… Some colors match up on top of each other, and some don't. Rinse and repeat.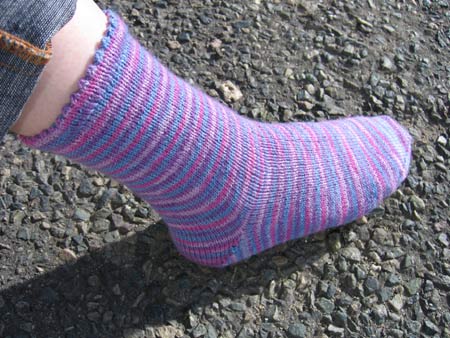 I could hardly stop myself from finishing this sock in only a few days. I was surprised to find myself watching each and every stitch just for the color changes. With simple stockinette in the round, I can potentially knit blindfolded! Yet I couldn't take my eyes off…
You're just too good to be true,
Can't take my eyes off of you.
You'd be like heaven to touch
I wanna hold you so much…
Pardon the way that I stare,
There's nothing else to compare,
The sight of you leaves me weak;
There are no words left to speak…
I know I'd be much less nostalgic if the colors pooled in an awful way. If they pooled, in fact, I would knowingly shake my head and remind myself that I have a drawer full of solid-colored sock yarn.
But, alas, that wasn't the case. For the record, I knit the short-row heel using the other end of the skein to preserve the color patterning. I don't think it'd be that bad to knit it all in one piece, but why risk it? Such a simple solution to potentially unsightly pooling at the bend of the foot.
The only place where the colors pooled ever so slightly is in the toe area.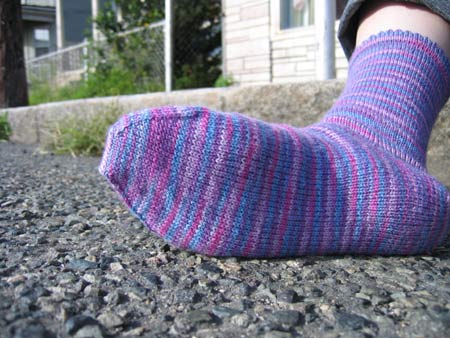 I don't think it's worth discussing, and I should consider myself lucky that the yarn didn't do something more atrocious. (Also, do you see why I have such an interest in socks with arch shaping?)
The second sock is already on the needles, and I'm predicting a speedy sprint to the finish line.
Even more unthinkable, I bought more variegated sock yarn. I'm really testing the heavens, right? I got some Claudia Hand Painted Yarn in butter pecan (as recently seen on Fidget's blog). It, too, spoke to me, telling me that it'd be perfect for grandma. I think it might be another stockinette with picot edge sock, though I'm not sure yet.
0
likes