It's good to have a best friend, don't you think? Maybe you appear different on the outside, have different personalities, likes and dislikes… But when push comes to shove, you have the same morals and values; you're made of the same stuff, so to say.
And so with these socks.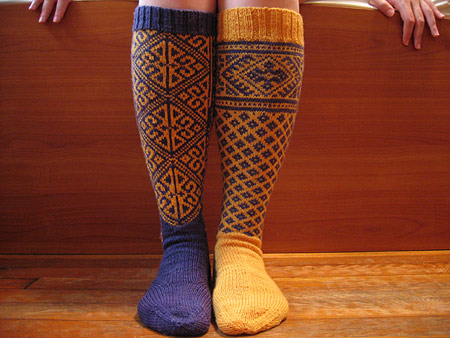 The one on the left is of course the Blue and Cream Stocking from Meg Swansen's Knitting. The one on the right is its newly found friend, the Estonian Stocking.
Pattern: The Estonian Stocking is a true chimera:
the basic shape mimics the Blue and Cream Stocking, including the oh-so-snug arch shaping (check out the Fall 2006 Vogue for more inspiration!)
as before, the French Toe is from Nancy Bush's Knitting Vintage Socks (p.21)
the pattern motifs are from Nancy Bush's Folk Knitting in Estonia, including those from Marko's Mittens (p. 100) and the whorl (p. 29).
Needles: size US 1 Susan Bates, 2 circulars
and 5 dpns
.
Yarn: Sundara Yarn sock yarn, in 006 and 024. I think I used about half a skein of blue, and 1.5 skeins of orange.
Gauge and size: gauge in stranded section: 8.3 spi, 9 rpi. I think the gauge is different for this stocking than the first because the orange is just a little fluffier, and more of it is used here. The stocking is 13″ in circumference at the calf, 7″ in circumference at the ankle, and 17″ long from cuff to bottom of heel.
If you compare, you'll notice that this stocking is a little wider. Indeed, it ended up being worked over more stitches to fit the pattern repeats – I started with 108 sts and narrowed my stranded work to 68, then to 64 for the foot (versus 106 to 54 for the Blue and Cream Stocking).
Another improvement – I knit the ribbing at the top over fewer stitches (92) and on smaller needles (US 0), then increased for the colorwork. This is to accommodate the difference in gauge between stranded and regular knitting. If I were even more obsessive/compulsive than I already am (God help us all if that ever becomes the case), I would make a similar adjustment for the few rounds of regular knitting separating the different sock sections.
I also modified the shape slightly, decreasing more rapidly where the calf tapers, thus accommodating my bulbous calves and tiny ankles better. I think you can see the difference in this photo: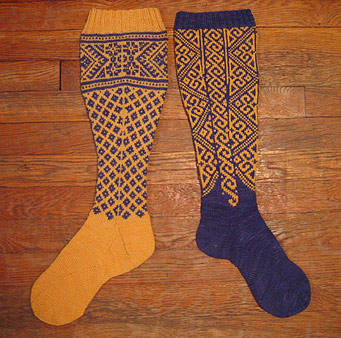 Seriously, my legs are shaped like that. Otherwise I wouldn't have done it!
The verdict is that I love this one as much as the first. I heart you, little huge stocking! I think it was smart to make the second different – even though this pattern motif was much simpler and slightly more boring, it was more interesting than knitting a second one of the same thing. So I chugged through it without too much complaining.
I have more Fair Isle knitting planned for the future. This time, the socks will be knit from the toe to the cuff, because I find myself somewhat bothered by the V's of the colorwork stitches being upside down. But before I get to that, here are a few more shots of this glorious Estonian stocking (click for bigger):
simply fabulous arch shaping; view from the side; inside-out
0
likes