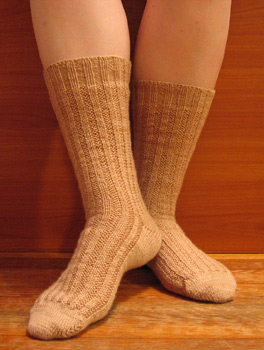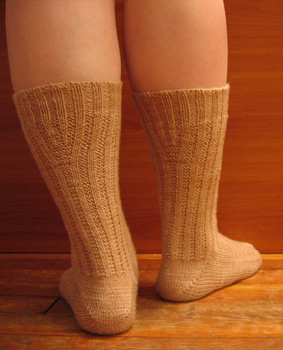 Pattern: Garter Rib from Sensational Knitted Socks. Worked toe-up over 60 sts, with a short-row toe and heel (I use Wendy's method), topped with a little 2 x 2 ribbing.
I previously posted various details of this pair of socks – how I did the calf shaping and the bind-off, and even how I cheated a little on the whole short-row business to make prettier toes and heels.
Yarn: Lorna's Laces Shepherd Sock in chino, 2 skeins (at one point, I may have called this colorway "khaki" – I stand corrected).
Needles: Susan Bates Silvalume US 0, set of 5. These needles are my choice for sock knitting, and they can be purchased here
.
You may be thinking, "Yeah, yeah, it's another pair of socks." But, oh! It is so much more! I'm hoping this pair of socks is exactly what my dad wants, from color to fit to pattern. I have reasons to believe that they'll be a very special addition to his sock drawer.
No sooner were these socks off the needles and tumbling in the washing machine that I cast on for a new pair. I always need a little project on the go!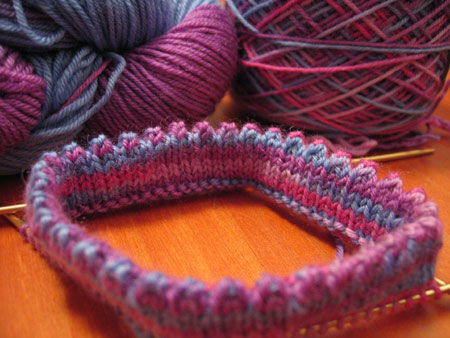 As you know, I'm not into variegated sock yarns. First, I find them painfully limiting – to give you one example, Child's First Sock in Shell Pattern would never in a million years look as good in a variegated yarn as it does in a creamy white. Never.
Second, I have mixed feelings about color pooling. Actually, I lie. My feelings about pooling can be summarized concisely by the following statement:
The best way to avoid pooling is to use solid-colored yarn.
Blunt. Harsh. True? True.
So what the hell am I doing with that yarn you see up there? It sure looks like it will pool something terrible as soon as I knit a few more rows, and that I will have to combat the pooling the only way I know how – use solid-colored yarn.
Sigh… Weakness.
I saw it, and I couldn't resist. It is Lorna's Laces Shepherd Sock in wisteria from Linda's store, and it had my grandma's name all over it.
I swear it spoke to me… Grandma… Roza… Grandma… Roza… credit card… Grandma… enter the expiration date… Roza…
And now I'm limited ("Why I don't use variegated sock yarn, reason #1"). I briefly entertained the handful of variegation-friendly patterns, and decided to go with a simple stockinette sock. Do you know I've never knit a simple stockinette sock??? There's a first for everyone.
As you can see, I started with a simple picot edge. Without a doubt I'm influenced by all the picot-edged socks out there (oh, Claudia and your picot temptress ways). To add insult to injury, I'll have you know that the last time I saw my grandma, in no uncertain terms, she told me she wanted a picot edge on her next pair of socks. She showed me her new machine-knit cardigan set, pointed out the picot-edged cuffs and collar, and said, "I want this."
And so it will be.
0
likes