For all intents and purposes, I should be on my way to becoming a master seamstress by now. I mean, at this point I should have attended three sewing classes, and at least learned some nifty things about patterns, cutting fabric, fit, and so on.
Alas, it was not meant to be. My excitement about the sewing class was curtailed roughly and abruptly – first the class was postponed for one week, and then cancelled all together. I was pretty pissed off, no doubt about that.
On to Plan B – yet another sewing class! This time through the Boston Center for Adult Ed, rather than the Cambridge one.
Be the first on your block to sport the latest fashions or create unique pieces of your own! Cover reading and using garment patterns, sewing terms, cutting, assembling, and fitting. Most class time is spent altering patterns, sewing, and discussing individual sewing problems. Supply costs are additional and will vary depending on your project and fabric selection. Please bring a pattern of your choice by "Very Easy Vogue," "Burda," or "New Look" to the first class. When choosing a pattern prior to class, please consider a pattern that has three sizes in one, for easier adjustments. Access to a sewing machine outside of class is necessary to complete your project.
I signed up this morning ;).
This class specifically requires using a Very Easy Vogue, Burda, or New Look pattern, and the Simplicity pattern I originally chose won't fly. I bet the instructor is thinking ahead, shielding the students from a lot of heartache – I haven't heard the best things about Simplicity patterns.
No problem! I briefly considered making this Burda top (hahaha! hahaha!), but then came to my senses, and picked a nice gored skirt (Burda 8213), very similar to the Simplicity one I chose earlier: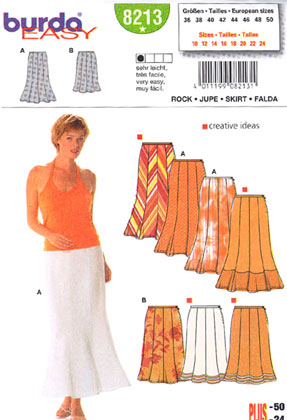 It's a no brainer – the style flatters me and I already have the fabric. The pattern calls for a lining, and if it looks like I can't omit it, I'll have to get some this weekend, too. The thing is rated "very easy," so how complicated can it be?!? (famous last words)
While shopping around, I also noticed (and bought) Burda 8973, a more fancy variation of the same gored skirt: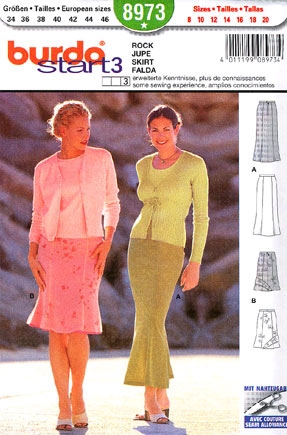 I like the shorter skirt with the sheer overlayer. I like really girly crap, what can I say?!? It's rated "some sewing experience," so I'm saving this one for when my sewing anxiety is under control.
Well, I don't have much time to mull over the upcoming sewing class.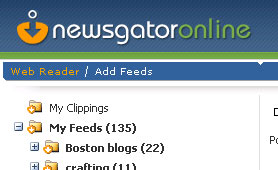 Excuse me while I catch up (not just on blogs, on life in general).
1
like