I've missed you.
I've missed you so much.
I missed "talking" to you, and taking pictures for you, and reading about your adventures, and leaving my poor approximation of witty comments.
My own knitting life has been on hold. Poor Mountainash has been neglected and is probably filing for divorce as I type this. Where is he, anyway? I don't even remember where I tucked him away. The second one of my dad's socks was nearly done, but then I had to frog it. I want to tell you why and show you pictures! Whacking myself across the face with a piece of Plexiglas was involved! My KnitPicks needles arrived the other day, I tossed the box in the kitchen and haven't had a chance to open it. My first sewing class is today (!), my skirt patterns arrived yesterday, and I haven't opened the envelope yet to make sure the right thing was enclosed! And, oh, there is so much new stuff I want to start…
Sigh.
NO MORE!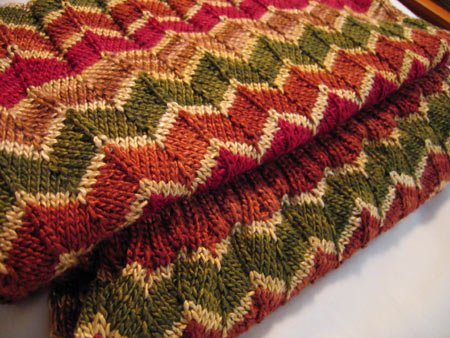 IT IS DONE.
Pattern: Egyptian style dress for Annie Modesitt's new book, Romantic Hand Knits
.
Yarn: Tilli Tomas Pure and Simple, 100% silk, 3 skeins of Burnt Orange, and 1 skein each of Glazed Ginger, Ruby Wine, Moss, and Rattan.
Needles and gauge: US 4 secondhand needles from eBay (Boye?), 6 stitches and 6 rows per inch in pattern.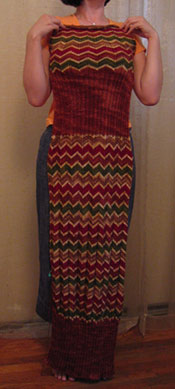 Dimensions:
This gives you some sense of the scale of the dress. I think it won't be quite to the floor when worn because it will stretch horizontally on the model, and she'll probably be taller than I am. Of course I can't model the dress for you – it's not my size. Plus Annie will be doing the finishing herself (closing the top of the slit, attaching the straps, etc.).

Knitting for Annie is always more of a luxury than a job. It's like, are you sure I should be getting paid to do this? I get to play with this luscious yarn, and you pay me??? At least that's what runs through my head, being very much a process knitter.
The pattern is fraught with thoughtful details, little things that make the whole thing come together perfectly. For example, remember Nona's quest for identical left- and right-slanting decreases? She came up with a brilliant solution herself, but here's something else to chew on: what about making left-slanting decreases on the right side (SSK), and right-slanting ones on the wrong (p2tog)? That's the way we're instructed to decrease in Annie's pattern, and although this method offsets the decreases one row, I felt the result is worth a look: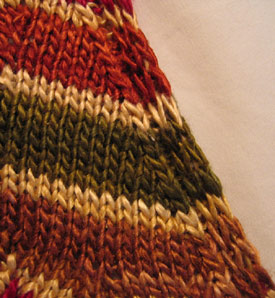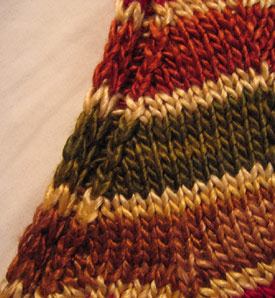 Please keep in mind that this fabric has not yet been blocked. Left picture: left-slanting decreases are made by SSK on the right side. Right: right-slanting decreases are accomplished by p2tog on the wrong side.
I enjoyed this project very much. In my honest and critical opinion, this dress is stunning. The yarn is amazing, and the resulting fabric is very deliberate – just the right union of stitch pattern and yarn, overlaid with the right color combinations and silhouette; not haphazard at all.
There were only a few moments when the skies were cloudy: first, and this is my own fault and was totally within my control, I was a bit rushed at the end. In the last 6 weeks or so, I've been working on this dress any spare moment I had, at the expense of other projects and sometimes showers :). Second, switching colors while in pattern was very tricky, specifically a stitch pattern which incorporates yarn overs and slipped stitches and intarsia and all that. Is it impossible? Obviously not. Third, the dress got a little unwieldy towards the end (it weighs about 1.3 lbs). But it's a big project, that's all there is to it! Maybe I should've rigged up a Lazy Susan or something to keep it turning while I knit in the round ;).
So, the question you all want answered: would I wear it myself? No. Knitted dresses are not for me. But do I appreciate the beautiful design? YES.
0
likes