As I was selecting an outfit for the wedding of the year, I went through my collection of dressier clothes to evaluate the candidates. While none fit the bill for this particular occasion (don't worry – I found something new this weekend), it became apparent to me that many of the pieces have been patiently waiting some basic repairs and alterations. I don't know why I've been so negligent and slow… I guess I haven't needed to wear them recently and other things have always gotten in the way.
Anyway, they were all out of the closet and ready to be fixed.
Item #1 A stretchy black cocktail dress. Every girl needs one – the little black dress that flatters what she chooses to reveal ;). Unfortunately, this perfect dress had one huge flaw – the straps tied at the shoulders! This was fine when I was 18, but now I just look silly with those funny bows. Like a little girl! The dress still fits and is still in great condition, so it was worth the effort to convert the bows to real straps.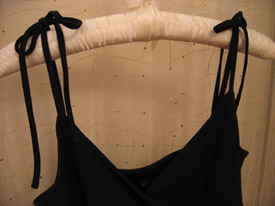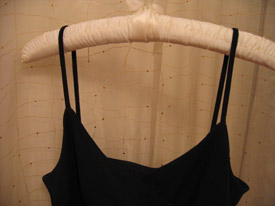 Item #2 A stretchy black cocktail dress. One? Just one?!? Every girl needs at least two little black dresses! The straps were the issue here, too – a man must've invented those true spaghetti straps. Forget about zero support, those suckers dig into the shoulders like it's the last thing to hold on to before being tossed into the donations pile! But where would I get replacement straps? Simple – from the other half of the ties of cocktail dress #1!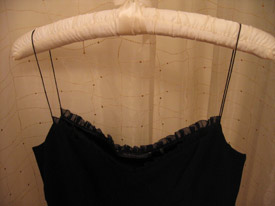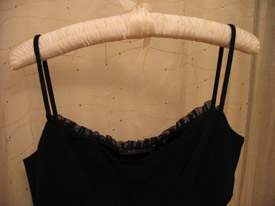 Item #3 A lovely skirt, nude base with black sheer lace overlay. Unfortunately this skirt got intimately acquainted with my high-heeled shoes as I stepped on it and ripped it while getting out of the car. I patched it up, quick and dirty, with a sewing kit at the hotel, but a neater operation has been necessary for some time.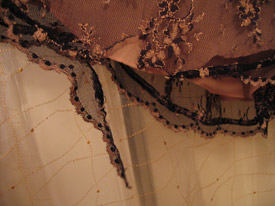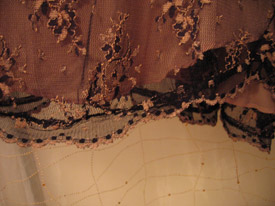 All this took just a few hours. Done and done.
Next: I finally opened my KnitPicks package, which contains a sampling of their new needle line. I agree with everything you've read so far – they are pointier than Addis, the cord is nice and flexible, the joins seems smooth, the needles themselves are smooth, they're as cheap as dirt, the size isn't marked, the packaging is flimsy, blah blah blah. I'm late to the party, obviously. But I'm not a convert. For a reason that I have yet to see someone mention! Stay tuned.
0
likes