My friends, you all know that I'm simply a needle whore. I consider choosing the right set of needles an integral part of swatching, and for that reason have such a massive collection of them, it's nearly embarrassing.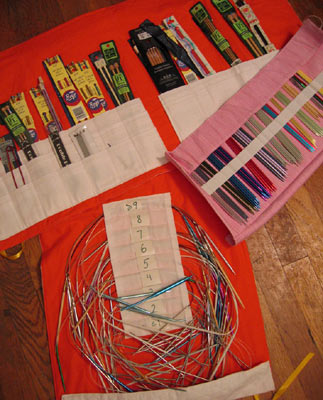 Okay, it's totally embarrassing ;). Especially considering I have at least 6 circulars currently tied up in this project. (my needlecases are homemade: here and here)
Yes, the fate of some of my projects has been decided by the choice of needles alone. I suspect, for example, that I wouldn't be a sock knitter if I only had bamboo dpns at my disposal.
Considering that you all know this, and that you are a generous and attentive crowd, it's no surprise that over the last week I've received no fewer than six individual e-mails letting me know about the new KnitPicks Options needle line. Thank you for e-mailing me, and, yes, I know ;).
But to be honest, I'm not dropping everything and getting all excited about this set, and I do not foresee purchasing it. Why? Simply, I'm very satisfied with what's currently available out there in sizes US 4 and up. All my favorites come in US 4 and up! – Bryspuns, Bluti Stumpos*, INOX Express, INOX Aluminum… even the cheapo Boye
and Susan Bates
are tolerable in the bigger sizes.
For me, the small needles are the issue, especially when it comes to working lace. I need needles in US 00-2 which are like Addis, but with pointier tips. The KnitPicks Options isn't going to help me there. However, I am optimistic about the new KnitPicks Classic Circular Needles, and placed an order for US 0, 1, and 2. While I was at it, I also got some of the dpns. My order won't arrive for a little while, but I'll let you know what I think once it gets here.
While we're at it, let me tell you about HiyaHiya needles. A few months ago these were mentioned on the KBTH list, and (you guessed it!) I received six e-mails, even though I read about them in the e-mail digest myself**.
So, I ordered two needles: 2 mm (US 0) and 2.75 mm (US 2), from The Stainless Line, in a 24″ length. I received the needles, inspected them, and without much hesitation, put them away in the miscellaneous drawer.
My initial impression is unquestionably "blah," although I'm having a hard time explaining exactly why this is so.
Actually, no: I know the main reason for the blahs. My friends, what is my number one concern when it comes to needles? The point, that's right. The point of these HiyaHiya needles is identical to INOX Aluminum, which I've been using all along. So, when I received the needles and didn't feel a prick-like point, I got the blahs instantly. I don't hate them, I just fail to see what's so special about them.
But to be fair, I like the long taper of the HiyaHiya (have always liked that aspect of the INOX Aluminum, too). I like what appears to be a smooth join. I like that HiyaHiya come in 1.5 mm (US 000), 2.5 mm (US 1.5), and 3.0 mm (US 2.5) sizes (INOX Aluminum don't).
On the other hand, I don't like the Boye-like stiff cords. I'm also not a fan of the long, straight needle portion (5 1/8″ for each end). Admittedly, 24″ Addis and INOX Express are also guilty of long straight needles. In contrast, the INOX Aluminums have a bend, which I like. No, I don't know what the 20″ HiyaHiya are like, because I don't think needles shorter than 24″ are practical for lace. Also, although the needles are silvery, they don't strike me to be as smooth as Addis.
I guess compared to my current small-size favorite, INOX Aluminum, I don't see a huge advantage: INOX has the needle bend which I find is easier on my hands, HiyaHiya has a smoother connection between needle and cord. Maybe if I decide to actually knit with them, I'll be convinced otherwise.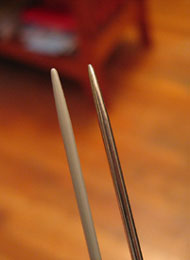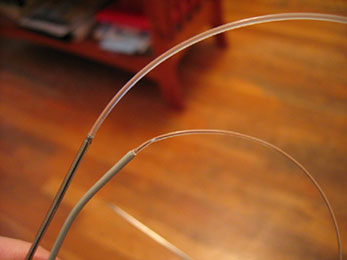 Comparison of INOX Aluminum and HiyaHiya 2.0 mm circs. Left: don't let the glare fool you – those HiyaHiya tips are identical to INOX. Right: notice that although the HiyaHiya joint is smoother, the cord is much stiffer. In that photo, I'm holding the needles in the lower left of the photgraph, and the cord makes that arch on its own.
* How the hell did Addi Turbos sneak onto my favorites list? Simple – I like Addis in US 4, 5, and 6 only, 20″ length only, non-lace work only. Otherwise, I hate the Stumpos!!!
** It's not that I know everything, or even pretend to know everything… It's just that when it comes to needles, my obsession is incredibly deep and rampant. I read all the lists, all the forums, never place an online order without first checking the shop's needle offerings. As a result, I've yet to be told about a needle brand which I haven't encountered before. In my posts about needles, I aim to inform rather than to solicit suggestions… or if I am soliciting, my requirements are very, very, very specific. I appreciate your understanding.
1
like