Guess who's back?!?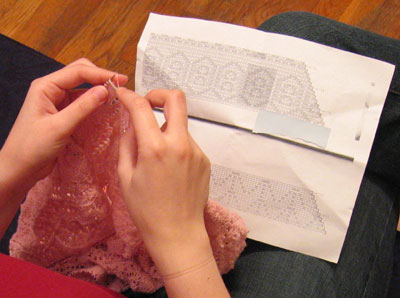 (I'm a low-tech knitter – a crumpled up pattern photocopy and post-it remnant is all I need)
Wow, I haven't touched this project in more than a month! And you've noticed 😉 – I'd say at least once a week someone would mention Mr. MA in a comment or e-mail. He appreciates your concern for his apparent disappearance :).
Reasons? There are two. First, other projects just took precedence, I guess – during my Mountainash hiatus, I started and finished the Pentagon Sweater, and the little raglan for LL. I'm also knitting away on the Egyptian dress for Annie, with a goal of finishing it by the end of the month! I just need to get some of those needles with the motors, you know? So I can knit 500 stitches a minute… from the In Your Dreams store :).
The second reason has to do with Mountainash himself. I got totally trapped in the section highlighted pink below: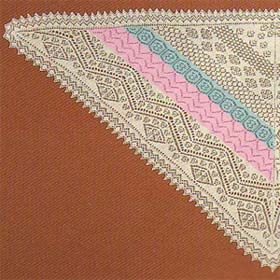 It is, without a doubt, the easiest section of the entire pattern. The right-side rows have a few yarnovers and decreases, the wrong-side rows are all purl. And I simply got bored out of my mind! I could hardly convince myself to complete one row in one sitting. Knit 10 stitches, yawn… knit 10 more, yawn… knit 10 more, alright, I've had enough!
But I had to take a break from the Egyptian dress over the last few days, and I pushed myself to get past it. It took me a few seconds to find my place in the pattern, but the general flow of the thing has been ingrained in my head, so I was back on track in no time. I'm poised to begin the next section (highlighted blue above), and you can see it's a little tricky.
It's showtime!!! (rubs hands in anticipation, smacks lips with delight, laughs maniacally!) Who's ready for some Mountainash action?!?
Oh, the progress schematic. I haven't forgotten 😉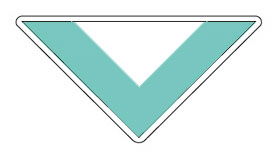 Slowly, but surely, I'm closing in on the center.
0
likes