I know there has been some talk around these parts that I'm nothing but a big tease. No more! I flip the sweaters: pink on top, white on the bottom!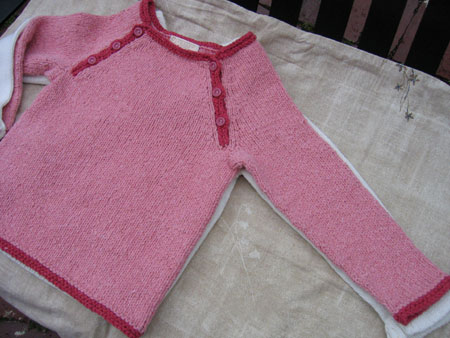 Pattern: a collaborative effort. I made the sweater look like the embroidered raglan sweater (do click on that link: the baby in the photo could be wearing a potato sack and I'd still knit it!) from Knitting for Two
. I saw a completed pair of these sweaters on a blog recently. They were green, I think, and super cute, but for the life of me, I cannot remember which blog! I used a Baby Gap sweater as the sizing template, and I knit it from the top-down, seamlessly, just like the Pico.
ETA: It was Karma's blog! Yes, they are super cute now that I see them again ;).
Yarn: Classic Silk by Classic Elite, 3 skeins of primrose, and just a bit of tomato. This yarn has un-freakin'-believable yardage.
Needles and gauge: US 6 Blunti Stumpos, which actually worked well for this project, at a tension of 20.3 sts and 32 rows per 4″ square.
Finished size: 22″ across the chest, and 9.25″ from hem to armpit. For all the measurements (at least those important for top-down raglans) click here.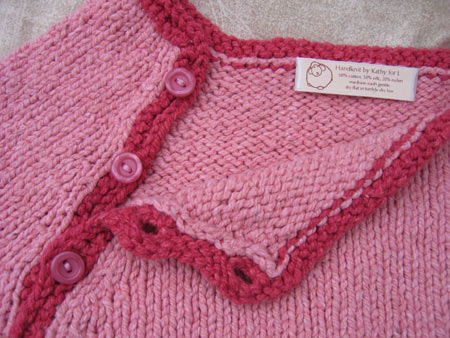 Details: I loved working with this yarn, but more importantly I loved its tweediness and terrycloth-like softness after machine-washing and drying (yes, I blatantly disregarded the care instructions on the label, it seems to wash just fine). I made one-row buttonholes from Montse Stanley
(p. 196-7, my source for most knitting techniques), and affixed a customized ribbon label (tutorial here, close-up here).
I'm happy to report that Little Miss Bestitched and her Mom liked the sweater, and even happier to tell you that the sweater was just a bit roomy – good, will be perfect for the fall ;).
0
likes