Sewing. As sore as my bum after accidentally plopping myself on a pin (ouch!).
I really do want to know how to sew. I notice the utility of it almost every day. I think, oh, if only I could take in this shirt a little bit, I'd wear it more often. Or, hmm, if only I could lower the waistband of these pants an inch or two, I could wear them with more tops from my wardrobe.
Alas, it hasn't happened. Remember my pathetic effort to follow Sew? I knit!? I got the pattern, more or less figured out what I had to do (with your generous help), then got the fabric, zipper, interfacing, etc., washed the fabric to pre-shrink it… and? That was more than 2 months ago. The girls at the sew-along have finished their skirts, and then their bags, and are about to embark on the third project, and I'm still standing here in the corner, mumbling to myself about notches, popping anti-anxiety meds, and applying a second layer of anti-perspirant.
I have serious sewing anxiety. I know what I have to do, but at the same time, I don't. Everything remains very abstract – I read about various ways to transfer the pattern, and then I look at the pictures, and sometimes I even watch the ladies who sell the sewing machines on QVC do it, and it's still a mystery. By the way, there's no better way to increase sewing anxiety than to watch professionals on QVC whip up a pillowcase in 14.6 seconds.
I think I need to see sewing in real life, and to be able to ask lots and lots of questions, with immediate answers and demonstrations. Also I need a more narrow stream of information – giving me 10 different ways to do some simple sewing maneuver is more harmful than helpful, I think. Because then I get fixated on which is the better way, and having zero sewing experience, I obviously can never come to an answer on my own.
So, I've taken action. I've signed up for a sewing class!
This class is for those who haven't sewn and for those who want to begin again. Instruction will include the basics of sewing machines, patterns, fabric, cutting and assembling while making a simple garment. Access to a sewing machine is necessary. Bring a notebook to the first class. Purchase pattern and fabric after the first meeting. Limited to 10. 7 Tuesdays, 8:00-10:00 pm. Begins Jun. 13.
Holy Mother of the Jesus, help me. Amen.
In the meantime, I have not neglected my sewing machine. A little at a time, I continue to make simple things. I've hemmed a few pairs of jeans (including the ones in the I believe I can fly photo from the last entry), and I made another needle case!
If you remember, I started my sewing career by making two needle cases from a table runner and some dinner napkins. That was about a year ago, and so far I have been very pleased with the functionality and durability of my creations. However, my needle collection has grown, and I started to feel that I really wanted/needed another small case to hold some of my dpns. So, I made one! Took only an hour or two ;). Follow along: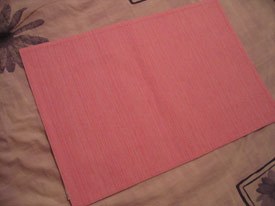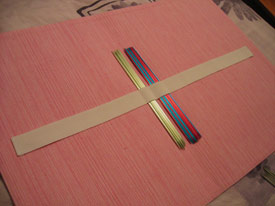 (1) Obtain a placemat. The placemat should be sturdy, and roll up smoothly. If you're like me, you'll choose a placemat that conceals sewing imperfections ;). (2) Obtain 1″ wide braided elastic. Snap elastic menacingly at SO, kids and/or pets. Just kidding! Sew length of elastic in the middle of the placemat, running a line of stitches every 0.5-1.5 inches, depending on how you plan to store your needles.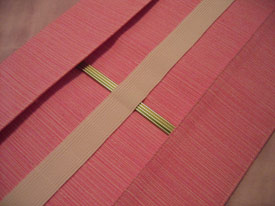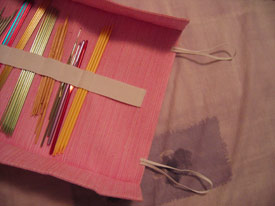 (3) Fold extra fabric towards the center of the placemat, and simply stitch a straight line (hahaha! hahahaha!) a few millimeters from the fold to make flaps. You may need to adjust the thread tension. (4) Attach elastic loops at the side of the needle case.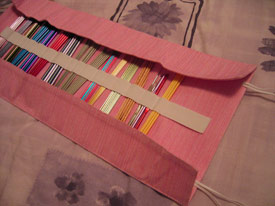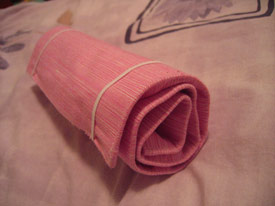 (5) Fill with needles. (6) Admire the compactness, portability, and practicality of the whole thing.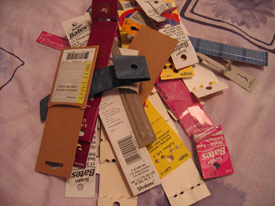 (7) Laugh wildly at the pile of needle wrappers you can now throw out – bwahahahaha!
Baby steps, right? Baby steps…
12
likes