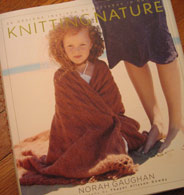 Here it is, the culprit. It is a brand spanking new book by Norah Gaughan called Knitting Nature
. Carolyn recently mentioned it on her blog, and I bought it immediately, sight unseen.
Ever since I knit my first sweater, the Vintage Pink Cardigan, I have kept my eye on Norah Gaughan designs, and I have come to regard her as a very creative and prolific knitwear designer. I don't know if this is a good thing or a bad thing, but I put Norah in the same category as Annie Modesitt and Teva Durham – even if I cannot imagine myself knitting and wearing some of the designs, they encapsulate a completely different perspective, thought-provoking and inspiring. For this reason, I did not hesitate to purchase the book without even leafing through it at the bookstore.
Now, a quick review. The patterns in Knitting Nature combine knitwear design and Norah's background in biology. Yes, Norah is a biologist by training, with a degree from Brown! Each of the six chapters, hexagons, pentagons, spirals, phyllotaxis, fractals, and waves, contains patterns which feature one of these naturally-occurring motifs. Norah explains the background of each design (women's tops, mainly), how it incorporates the elements of nature, how it functions, how it's supposed to fit – good stuff! The patterns are thorough – schematics, finished measurements, charts… everything your knittery heart desires. The photos are large and clear.
The designs are exactly what I expected – intriguing! Different! Fascinating! Some I'd wear, some I wouldn't. Some I wish I could, but I need to grow at least 5" ;). It is the shapes and the silhouettes that are the unusual element (meaning, the colors and yarns and other aspects are entirely palatable and non-objectionable). This is a book that I don't recommend you "buy right away," but if you can borrow it from the library, or leaf through it at the bookstore, do it. NOW. And take off the dust jacket – it looks different under there ;). To whet your appetite a bit, I snapped photos of some of my favorite designs from this book, and put them in the extended entry.
So, which design caught my eye? Swirled Pentagon Pullover from the pentagons chapter (click here for another view). You've got the basic stockinette at the bottom, but just look at how cleverly the yoke pentagons are attached! How some pentagon sides form the armhole, and others are seamed together to make a smooth neckline – brilliant!
I have some stash yarn I can use for this project – Gedifra Korfu cotton/acrylic blend in a nice tomato red that I got at elann (unfortunately, I see that they no longer carry it). I already have a full list of modifications planned, although I don't intend to mess with the pentagons at the shoulders at all. That's definitely one of those elements that are best left to the designer :). Of course I'll tell you the mods as I get to them (can you already spot the first one?), but one thing for sure – there's no way I'm keeping this a turtleneck. Turtlenecks, generally, make me feel like there's pantyhose wrapped around my neck and someone is pulling at each end really hard. Some kind of simple crewneck works better for me.
Did I mention that my stitch gauge is off, and my row gauge is way off? And I know from experience (ahem) how important row gauge is in this type of construction. Hehehe! Let the fun begin ;).

0
likes