Where has the Grumperina gone?
Simply, this knitting thing… all of a sudden I feel like I have two left needles, just like Monica. Lots of frogging doesn't make good blogging :).
I'll reveal the Big Project in a second (the one for which I got all that Tilli Tomas silk), but first allow me to publicly congratulate Ms. Bestitched on the arrival of her daughter, LL. My needles are clicking very quickly to outfit the little angel, and although I won't show you all the details until the "thing" is done, it's the project for which I've selected the Classic Silk.
I'm still loving this yarn. It knits up so easily, and produces such a lovely fabric. Curious about the 20% nylon content, I was playing with the yarn the other day, untwisting the plies. It ends up that this yarn has some elastic in it! Very thin white elastic, plied together with the cotton and silk. No wonder it's so wonderfully stretchy! And I still can't stop petting the washed swatch, all fluffed up and filled out. Here's a photo of the density of fabric before and after washing: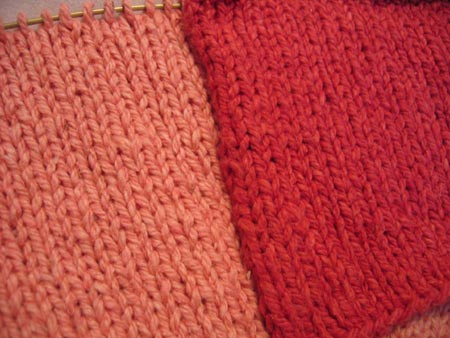 The tweedy goodness is almost too much to handle!

Now, the Big Tilli Tomas project. I loved (loved!) reading your guesses, but, alas, they were all wrong (save for Lauren, who I think had insider info). You all should have immediately known that the project isn't for me, of course. For starters, I don't wear brown. I dislike brown so much, that with the exception of a pair of hiking boots, I don't think I own one article of brown… anything. Second, since when would I be able to afford 9 skeins of luscious silk, $28 each? Uhm, not on a graduate student stipend!
So. I'm knitting a sample for Annie Modesitt's new book Romantic Hand Knits
(remember when I knit the felted dog bed for MWKDWLT
? Same idea.). Annie has given me permission to blog about this project, so here I go!
I'm making a full-length (to the ankles), Egyptian style, silk dress in a gorgeous eyelet/chevron pattern, with a slit. Annie showed me the inspiration in one of her numerous "attire throughout history" books when I visited her house in January, and I think my drooling back then combined with her knack for spoiling me rotten assured that this project would be assigned to me.
Now, to be perfectly clear, I don't think I would ever wear a garment like this myself. The "no knitted fabric over my butt" rule simply won't be broken, not even by Annie :). And as I mentioned, I would have never chosen this autumnal palette, nor this expensive silk. This makes the Egyptian dress project that much more exciting for me! I'm the ultimate process knitter (remember the one and only Meg Swansen sock?), and it's simply unbelievable that I'm getting paid to work with this incredible yarn, and to knit this gorgeous dress. Whether I'll get to wear the thing after all is said and done is irrelevant, as it has always been.
About the Tilli Tomas Pure and Simple yarn. In one sentence, it is everything you imagine 100% silk to be. But on top of that, it smells like green tea. Well, it actually smells like green tea ice cream from Ginza in Chinatown, but now we're getting a bit specific. For a yarn sniffer like me, this is a heavenly bonus ;).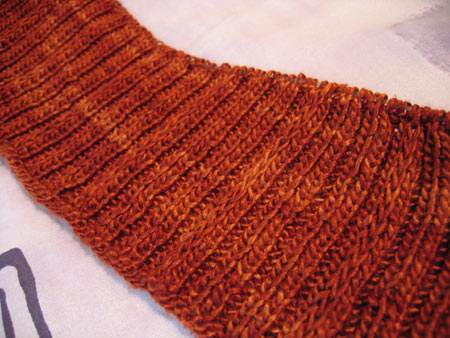 0
likes