This is the new Grumperina favorite – no question about it!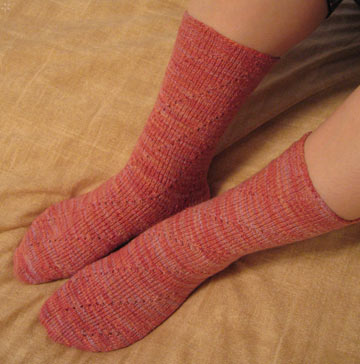 Pattern: Mata Hari socks by Craftoholic Steph. Other than knitting these from toe up, and substituting short-row heels and toes (I use Wendy's method), I didn't modify the pattern.
Yarn: Greenwood Fiberworks cotton/lycra, in the Penelope colorway. The socks you see were knitted from one skein, with a decent amount of yarn remaining (I'm guessing enough for another 1.5-2″ for each sock).
Needles: Susan Bates dpns
, set of 5 in US 0.
Finished size: about 6.5″ in circumference, unstretched, making my gauge 9 spi.
I know I've raved about Greenwood Fiberworks and Carolyn Greenwood, the artist behind the whole operation, before, and I cannot stop! Carolyn is simply a gem – kind, generous, receptive, professional, and speedy. In this day and age of online purchasing, it's so easy for our transactions to feel empty, impersonal: punch in a credit card number, receive an auto-generated confirmation, followed by a package "carefully inspected by #17", end of story. But with Carolyn, I feel like I'm dealing with a real person. In her hand-written notes, and in her yarn descriptions, she writes about her colorways and her family alike, and it just puts a smile on my face each and every time.
Enough mushiness, let's get down to business. I know many of you are waiting for just the right information before making your Greenwood purchase, and because I love this yarn so much, I want to tell you more.
Bottom line – my feet are singing the highest praises about this sock yarn! This yarn is so soft and snugly, knitting with it is joyous, and it machine-washes like a champ! It is very stretchy, and a true fingering weight, so it's simply perfect for a well-fitting, thin pair of socks. Penelope, the colorway I used here, as well as Greenwood's self-striping colorways, are probably showcased best in a stockinette-based pattern.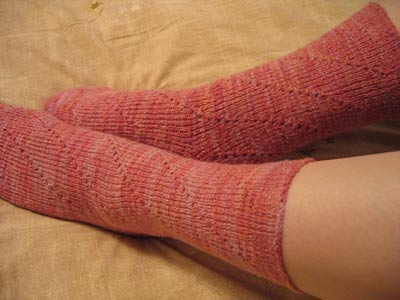 I think the eyelets of the Mata Hari pattern are noticeable, but they'd be even more pronounced in one of the solid colorways, which have become available since this early purchase (Pssst! Have you subscribed to Greenwood's RSS feed, so you can be instantly updated on newly listed striping, variegated, and solid colorways? Follow the RSS this shop button on the storefront's sidebar!).
As for more complex patterns, lace and cables and such, a little trial-and-error is in order. The yarn is textured and pebbly when it knits up, and it's a bit difficult to predict what will show up and what will be engulfed by the squishiness without actually casting on.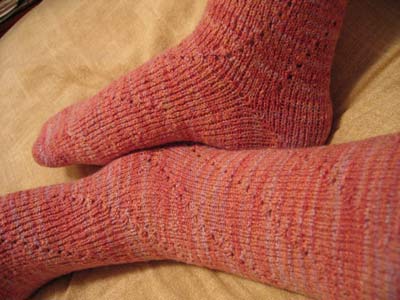 Several people have asked me about knitting with a yarn that stores so much elasticity. Simply, you have to grab a pair of needles and give it a try. We all knit differently, and what one knitter will accomplish by stretching the yarn a bit while knitting, another will recreate by using smaller needles, but leaving the fiber completely lax. A real life example: Ms. Bestitched and I produced Greenwood socks which are identical in size – I held them up against each other the other day. She cast on 68 sts and knit using a US 1.5 needle, while I cast on 60 sts and used a US 0. Perhaps I knit a bit looser, or don't stretch the yarn as much – I don't know, and it doesn't matter, since each pair of socks fits (beautifully!). Both of us came up with our magic stitch number and needle size by trial-and-error, so, go for it! The yarn holds up to frogging just fine ;).
I would like to emphasize that both Diana and I came up with stitch numbers in the 60s. Interestingly, most sock patterns are written for 60-70 sts, so it leads me to believe that you can try many published sock patterns with this yarn without alterations – the socks will fit, it's just a question of how visible the pattern will be.
And that brings me to another question I've received on several occasions – what about Greenwood Jaywalkers? The answer – while the stitch count similarly makes me think that you do not need to adjust the Jaywalker pattern, I have no idea how Greenwood yarn will behave with stitches placed and stretched on a bias. Again, a case of trial-and-error, except I won't be the one doing the trials ;).
And now, if you'll excuse me, I'm going to enjoy my new handknitted socks ;).
0
likes