I bet you're sick of the Sheep & Wool reports by now. Or if you aren't yet, you might be soon. Tell you what – this post promises to be entirely sheep- and wool- and knitting-free! Okay, I manage to squeeze in the teensiest amount of knitting in there, but you'll see, it's not much.
The post also explains my blog absense. Not that I've been gone that long, but… you know, clearly something was up. I spent the weekend at my parents', celebrating my mom's birthday. She invited some family and friends, and cooked an all-out Russian dinner. Knowing this, it wasn't very difficult to convince me to come down for a few days ;). I snapped just a few photos while the food was being prepped, but they capture some interesting moments. I put them in the extended entry for the curious among you ;). The rest – I'll update the knitting progress soon. After all, visiting my parents does mean 10 hours on the train ;).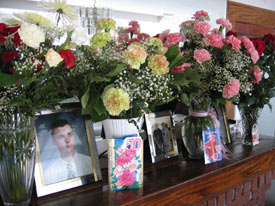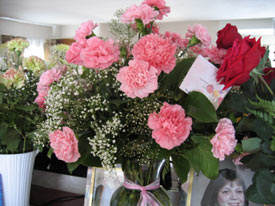 (left) Bouquets of flowers lined up on the mantle (if you squint and look carefully at the card on the mantle closest to you, you'll see it was a momentous occasion). (right) The carnations I gave to my mom – I'm pleased, especially considering I ordered the bouquet from a local (to mom) florist, hundreds of miles away from me, without really knowing what they'd look like at all.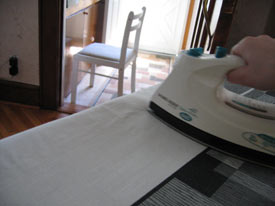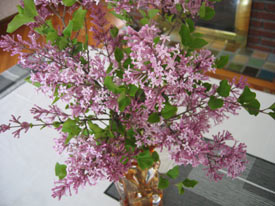 (left) Me, ironing the tablecloth. (right) Fresh lilac from "the field" (my parents call their backyard "the field" due to its, uhm, extreme undisturbed nature-like state).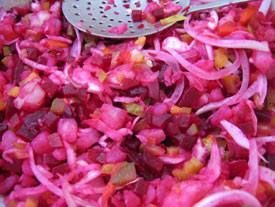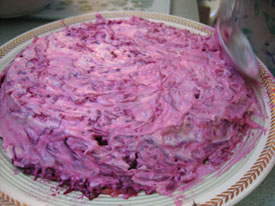 (left) Beet and vegetable salad. I don't touch that stuff with a six-foot pole. (right) A Russian classic – "herring in a fur coat" – this is a cold dish where filleted herring is covered with carrots, onions, beets, and finally, a generous layer of mayonnaise (which my mom is spreading in that photo). I don't touch this one either.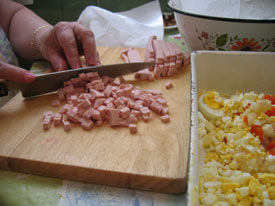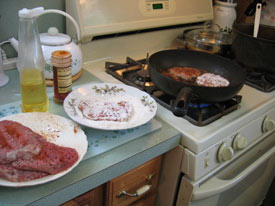 (left) My Godmother is chopping a bologna-like cold cut that's used in another salad. (right) The veal cutlet assembly line.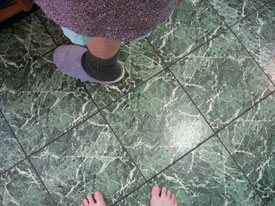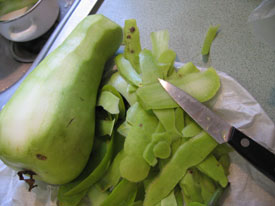 (left) My grandma wears handknit socks while she cooks; my hot feets prefer to stay barefoot ;). (right) I'm peeling a squash kind of vegetable. I'm not sure what it's called in English, but my mom asks one of her coworkers to get it for her from the Indian-food specialty store, since it's not sold at the regular supermarket. It's quite slimy like zucchini.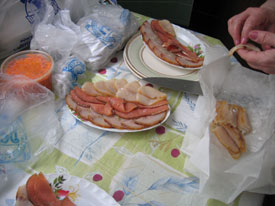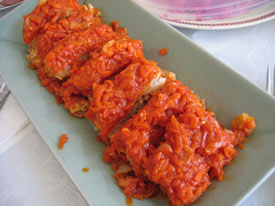 (left) My Godmother is arranging smoked fish of three varieties on some dishes. Yum! (right) Another fish dish – fish filets with carrots in tomato sauce on top, served cold. While I don't eat this dish, let us admire beautiful platter ;). I gave a set of these to my parents for their 25th wedding anniversary – they are from Simon Pearce.
0
likes