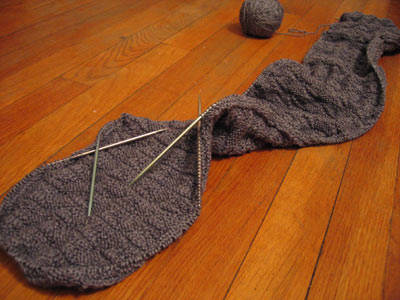 Well, there it is.
Doesn't look so impressive, does it? Sounds a whole lot more gargantuan – "I picked up 582 stitches," "I'm starting with 648* stitches…" Big whoop-de-doo, looks like a wadded up something or other. Don't alert the media.
But we do what we have to do, and in order for me to have a beautiful ruffled scarf, I have now committed to knitting very long rounds. So long, in fact, that I think for the first time ever I can visually tell the difference in the size of the ball of yarn after knitting only 1 round.
I'm not complaining, though. This beauty is on US 5 needles, and the yarn is significantly thicker than the cobweb weight I'm using for the Mountainash shawl. For a change I don't have to consult charts, or look at my knitting, or learn Japanese, or strain my hands, or poke and prod at googly mooglies! Ahhh! It's like relaxing on the beach contrasted to studying Optimality Theory (and if you know what OT is, you're as much of a dork as I am).
*I actually picked up 656, and will conclude with 2624, but who's counting?
0
likes