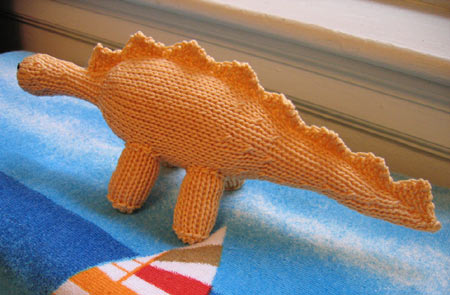 Hello, I'm Mr. Stegs, and I'm the most unevenly stuffed dinosaur ever!
Seriously. Seaming wasn't so bad, but why did I feel like a complete idiot when it came to stuffing the dino evenly? I'm not sure if you can tell, but he's all lumpy and bumpy, overstretched in some areas and under-stuffed in others. Filling and shaping the neck properly was the trickiest part because the head kept drooping until I freakin' shoved another pound of fiber fill in there.
However, I LOVE him. What a great project!
Pattern: Dinosaurs by Jennifer Thurston of Xtreme Knitting. I knit Mr. Stegs, but there's also Bronty and Trice, which I rejected because, come on, no spiny back!
Yarn and needles: Tahki Cotton Classic, less than 1 skein, knit on Bryspun straights, US 5. As far as straight needles are concerned, Bryspuns are my faves.
Finished size: Big enough to rule the world! Rrarrrr! (i.e., 12″ long, 5″ high).
Mods: The pattern is very well thought out – I felt that it minimized seaming, and that the dinosaur's shape was right on. So, I didn't change a thing other than to substitute a different yarn! Oh, I didn't attach the tail spikes – they just didn't do it for me after the spiny back was attached in all its glory.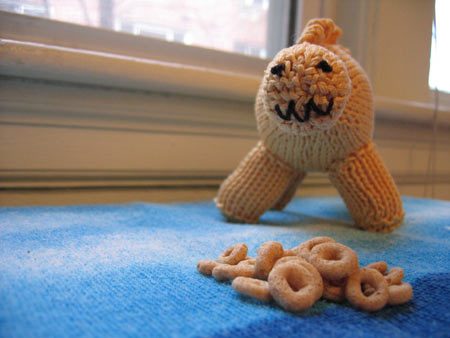 And now I will have a tasty Cheerios breakfast! How many Cheerios will I eat? All of them! Rrarrrr!
As you can see, I gave Mr. Stegs three teeth, and not a hint of a smile. I felt that was more appropriate to the recipient ;). I mean, VVV.
0
likes