The Mountainash shawl is now officially less than 500 sts wide. Puny, I tell you, puny! In my never-ending quest for things bigger and better, I have this to show you: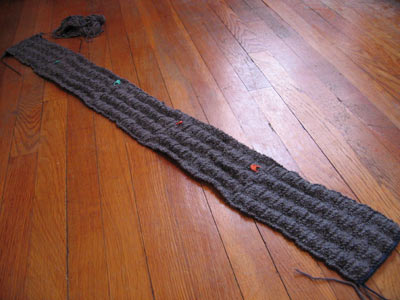 It's been a while since I updated you on this project, so let's recap: Silk Alpaca Ruffle Scarf by Mac & Me, using leftover silk/merino from my mom's shawl, which was a custom order from Sundara Yarn.
Early on I decided that the main part of the scarf would be knit in the Fluted Rib pattern (BW #2
, p. 5) rather than the prescribed K1P1 rib, but quickly ran into a little snafu when I messed up the pattern repeat.
Not to worry! For once (a truly rare occasion) I convinced myself that this was not a big deal, considering that the main rectangle is simply a placeholder for all the ruffles. In fact, as I continued knitting, I purposefully "messed up" the pattern three more times (you can see the "mistakes" marked with stitch markers) in order to officially call this a design element.
Whew! That was quite the recap!
Now the scarf is about 45″ long and it's time to pick up stitches along the entire circumference of the rectangle and add ruffles!
How many stitches, you ask?
Many.
Both short edges of the rectangle already have the stitches live and ready to go (I used a provisional cast-on), and I need to pick up approximately 290 stitches along each of the long edges, for a total of… 646 stitches!
But wait – ruffles are created by making increases, and although I don't yet know how many stitches I'll end up with (see below), I'm guessing it will be 1000 or more after all is said and done.
Picking up hundreds of stitches doesn't bother me. Knitting rows which take hours doesn't bother me. Binding off a thousand stitches – dreadful.
The reason I'm not yet sure exactly how many stitches I'll have at the end is because I need to adjust the pattern. As written, the knitter is asked to add ruffles along each of the four edges, and then seam them at the corners. I'm not going to be doing that because… there's a better, much more straightforward way – knit the edging in the round, using mitered corners – no seaming! Yes, this will involve using each and every single one of my US 5 circulars to cover the 100″ circumference (are you imagining this? Oy!).
I need to chart out the ruffle pattern to see what's going on, how long each repeat is, and how exactly I'm going to miter the corners. Fortunately, if the thing isn't to my liking, I have Nicky Epstein's Knitting on the Edge
to rescue me.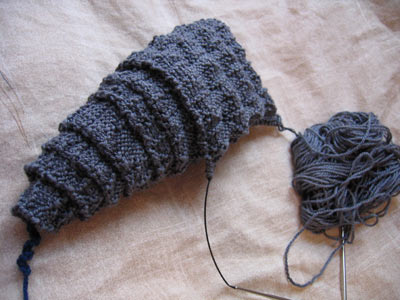 The camera loves this yarn. I don't think there's a way anyone/anything can argue with luscious silk/merino :).
Edited to add: I just charted the ruffle pattern and did the math. I'm happy to say that no mitering will be necessary because the ruffles are quite voluminous and will fill up the corners when placed appropriately. The shocker: the Maths tells me that I will start with 648 stitches around the circumference of the scarf, and end up with 2592. Yeah, you read that correctly, 2592.
0
likes