A fab pair of socks below, but first, a brief announcement. I spent some time tonight updating my website, and while most of the changes will not be immediately evident to you, if you come across any links which don't work, or if something looks funky in your browser, please let me know. I try my best to make this lil' blog compatible across many (definitely not all) browsers, but I know that's impossible. If you haven't already, I urge you to switch to Firefox. Really. Especially if you're still using the tool of the devil.
– – – – –
I must apologize. With so many things going on, I've been rather negligent in updating you on all my projects. Finally, someone sent me an e-mail – "hey, Grumperina, I haven't heard about such and such in weeks! Did you ever post an FO report and I just missed it?"
Sigh. No, you didn't miss it. Progress reports often become so… boring. Once the pattern is established, and there are no more troubles on the horizon, I find myself wanting to post about anything but the boring progress. "Look, one more inch of the same ol' thing!" – Boring!
And that explains how we go from the modest beginnings of the second Sockapaloooza sock to a completed pair! (and don't be surprised when a finished pair of Greenwood socks magically appears next, even though the last time you saw them, they were just wee)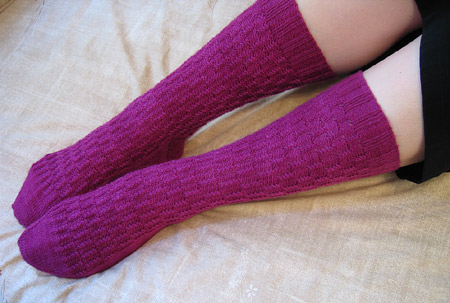 Click here for a steamy photo (like PG-rated, hehe) where I inadvertently show you some leg!
Look! All the basic details are on the custom label! Very convenient for me ;).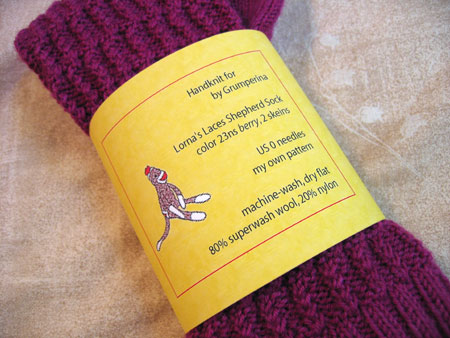 The label is simply a software/printer trick, which Carole explains so nicely here. I got a kick out of incorporating the trademark sock monkey and yellow background ;). I also managed to squeeze in the sockapaloooza logo. In case playing with Illustrator and Photoshop is not your cup of tea, Alison also has some fabulous ones available on her site.
To add some further comments: I am very pleased with the way this pair of socks came out. I admit that between the information my pal supplied and her blog archives, I had a pretty good idea of what she'd like in a sock. I hope I've been able to match her preferences in terms of color, size, and pattern (I think I have, cross your fingers!). With respect to color, this deep magenta has been a little difficult to capture, but it looks approximately right on my computer. As for size, these socks are very high – I used up the yarn almost in its entirety – which my pal prefers, and they are also rather wide and long on me, to accommodate her larger-than-mine foot. Last the pattern…
This pattern has a dual personality. On the one hand, it is so, so stretchy, and has such wonderful memory – snug around the ankle, not tight around the calf. Plus I added just a little bit of calf shaping, considering that the socks go up very high. I think they fit really well as a result. On the other hand, the pattern is composed of 44% twist stitches (knit second stitch, then first). Damn! Time-consuming, and muscle-demanding. I don't mind. In fact, I'm considering knitting a pair (or a slight variation) for my grandma. But would I recommend them to anyone else? Hmm… I guess a person with a lot of patience, time, and hand dexterity ;).
Here's a close-up of the stitch pattern. Can you spot the calf shaping?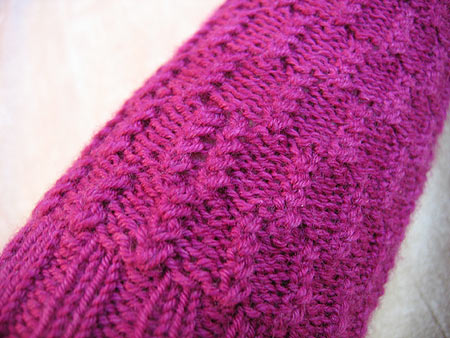 I understand that the last thing I need to do is get some postcards. I may rebel and get a nice notecard instead, as I don't really consider myself from Boston. Or Massachusetts. And possibly not even the United States. In any case, the socks are ALL SET! Woo!
0
likes