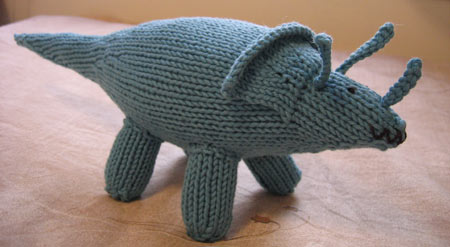 I. Am. King. Of the world! My name is Trice and rraarrrr at you! Rraarrr! Grraarrrr!
Some of you wannabe dinosaurs prance around all pretty and orange, but you are nothing compared to my ferocious self!
And Cheerios? Come ON! Only wussies from Planet Loserville go after stinky Cheerios. As if demanding all the Cheerios in the world will make you strong and powerful and fearsome! AS IF!
Real dinos, dinos with serious ambition and a terror-inspiring stride, demand the only food which instantaneously screams, look at me, be afraid of me, I will ravage your cities and toss your cars like little toys…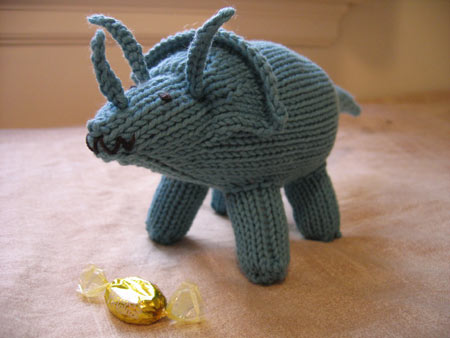 … Werther's Originals. Rraarrr! Give. me. your. candies! All the Werther's will be mine! Mwahahahaha! Rraarrr!
Pattern: Dinosaurs by Jennifer Thurston of Xtreme Knitting. This is Trice. The other two were rejected because, come on, no frill!
Yarn and needles: Classic Elite Four Seasons, less than 1 skein, knit on Bryspun straights, US 5. I really enjoyed working with this yarn, and love the way it knits up. I think it would be even more fun on 7s ;).
Finished size: Ha-uuge! Equipped with some Werther's, Trice will rule the world (13″ long, 4.5″ high).
Mods: I didn't change a thing except to crochet the horns. For real! And you know (you know!) I don't crochet just for anyone 😉 – this dino is for Purly! Also, I realized that I was misunderstanding some of the instructions, so dinosaur #1, Mr. Stegs, has some unintentional mods 😉 (it has to do with "purl rows" versus "wrong-side rows").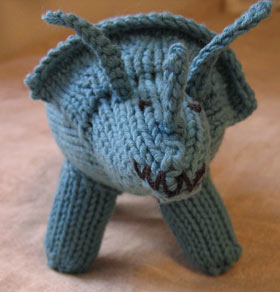 Of course Trice has a vicious 5-tooth growl. Of course! How else could he demand all the Werther's and become King of the World?!? Rraarrrr!
1
like