Who can resist a little girl, three and a half years old, crying over the phone about her lost hat?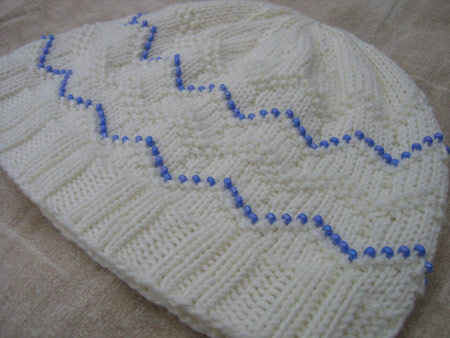 Not I!
My little cousin Sarit, for whom I knit the original lilac Odessa, has lost her hat. Devastation ensued, followed by a meek request for another hat from her older cousin.
I briefly contemplated knitting another Odessa, but considering that I've already knit two, I decided to go with something else. There were only two requirements – it had to come out as special as her older sister's hat, and it had to have beads, which apparently Sarit and her mom both loved.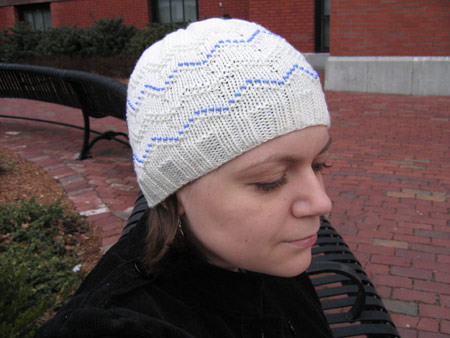 Pattern: my own (I haven't yet decided whether I'll write it up – it's terribly out of season). This is a simple stockinette hat accented with a bead and purl motif. I improvised a new-to-me shaping at the top: gathered and ruched. I really like it!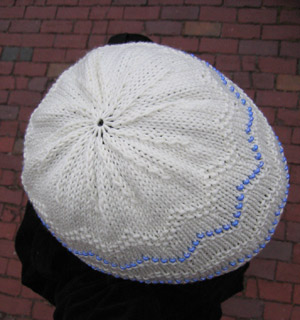 Yarn: Debbie Bliss Baby Cashmerino, color 101, off white, 1 skein.
Beads: 208 size 6/0 beads.
Needles: US 4 circulars and dpns, US 3 circulars for the ribbing.
Gauge and finished size: 17" in circumference and 6.75" in depth unstretched (for myself, I'd make the hat slightly wider and deeper). Gauge: in pattern, 24 sts and 34 rounds per 4" square.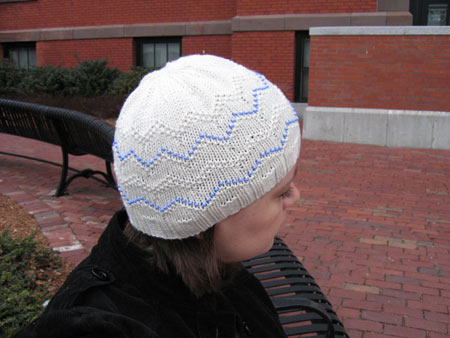 I'll mail it tomorrow, and hope the little cutiepie likes it!
0
likes